On the wood and vinyl flooring market, there are two kinds of floor joint systems: Click System and Tongue & Groove. Click System also contains 2G click system and 5G click system, invented by Sweden company Välinge Innovation AB. Woodloc® is also a wood flooring joint system from Kährs found in Sweden, Woodloc® are made of Woodloc® 5S, Woodloc® and tongue & grove, also Woodloc® 5G, and Uniclic from Belgium. Other brands such as: Alloc , Fiboloc and Berryloc are commercial products based on Välinge Aluminium AB Strip Lock system, Woodloc® is also included.
Click system from Välinge Innovation AB and Uniclic are popular on the engineered wood flooring marekt, you can found them from many manufacturers. Whether Välinge joint system, Uniclic or Woodloc® joint system, they are both same on installation and Manufacturers must pay for click lock joint system when they decide to use them. Tongue and Groove joint system are completely free for all manufacturers.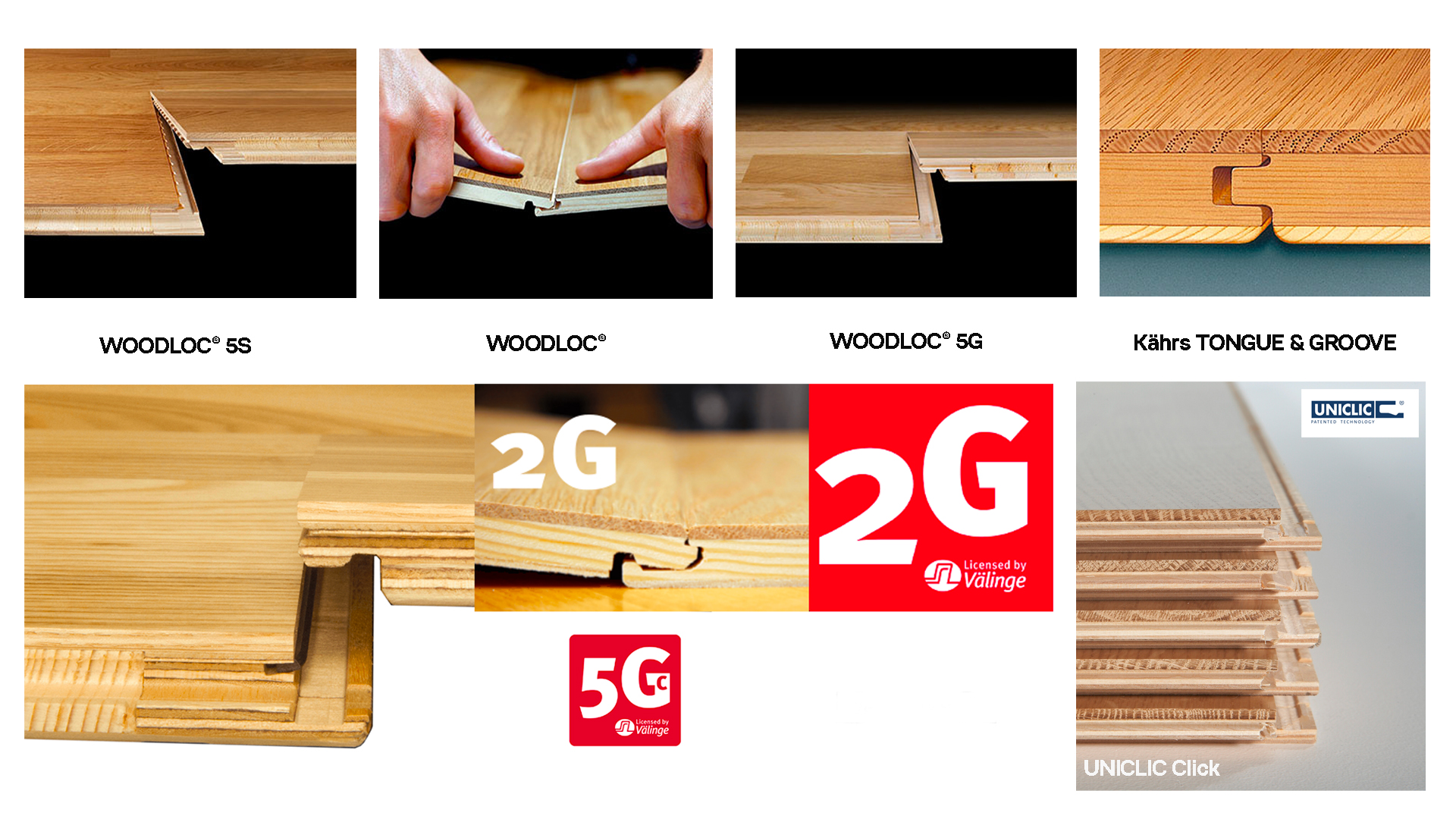 Tongue & Groove.
Tongue and Groove is a mature, traditional joint design system for hardwood and engineered wood flooring, it's a preferred one for most customers due to cheap price and more flexibility for DIY users. One side with bulge part called tongue(tongue on one end of the board – thin piece projecting from the board's edge),  the other side or end with sunk part called groove(groove on the other – formed to hold the opposing tongue in place). When installing the floor, three installation methods can be picked up, such as floating, gluing down to subfloor, secret nailing installation method, but secret nailing is not recommended for engineered flooring. Tongue and groove parts are invisible and looks smooth once planks joined together as a unit.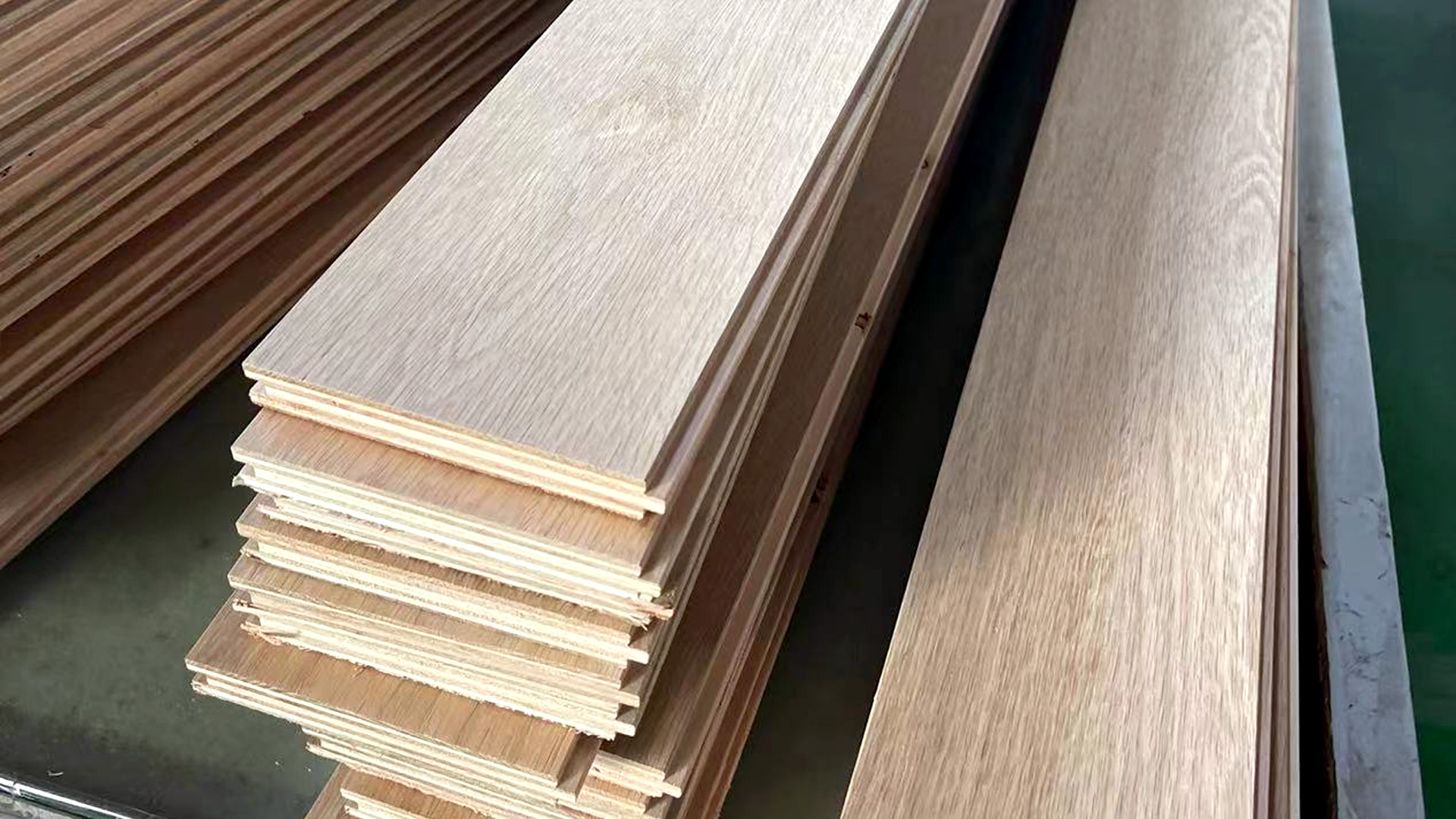 Tongue and groove engineered wood flooring is easy to install, but need much more patience than click system floors. T&G floor is also easy to move and expand, you will see the gaps several month later after installation, so get some adhesive at hand for the planks backing or inside the T&G parts is a optimal choice
Adhesive used on the plank back or above the subfloor, the way of installation is called: Glue Down Installation.
Adhesive used on the T&G parts, it is called: Floating Installation.
Pros.
Widely used, meaning there's a huge variation in styles and finishes available.
Quicker and easier installation than fitting solid wood blocks.
Cheaper when compared to the same flooring but with a click system, due to lower cost to manufacturers to create tongue and grooves rather than the click system.
Reduced noise and minimal squeaking, due to the tongue and grooves slightly loosening over time to allow for necessary movement.
Heightened resistance to moisture and spills. The glue used to secure the board in place will act as a barrier to any accidental spillages.
Tongue and groove flooring can be installed over any subfloor, including joists.
Cons.
Repairs to tongue and groove boards can be relatively difficult. Multiple boards will need to be removed, due to the glue and/or nails, especially if you're replacing a board that sits in the middle of your flooring.
Installation may take longer than click flooring, due to glue and nailing requirements. This may also increase costs if you're hiring a professional wood flooring fitter – although you can still fit the flooring yourself if you'd like to save and have the time to invest.
If the tongue and groove system isn't held together properly, such as using too little glue, boards can separate over time. It's important to use a sufficient amount to keep your flooring looking pristine for longer!
Click Joint System.
Click joint system is a fantastic method to install engineered wood flooring, the system invented in 1993/1994 by Välinge Aluminium AB company. It's kind of 2 piece of planks click and lock each other like a lock, so it is also called click and lock system. As we list above, there are many click system stems from Välinge Aluminium AB's Strip Lock system, such as Alloc , Fiboloc, Woodloc and Berryloc. Uniclic  is also a pretty good alternative or choice, "it was the first one-piece locking profile to be introduced to the market. Over the years it became the industry's favorite locking technology thanks to its unmatched production efficiency and technical performance."  In the floating installation method, click (or lock) flooring is quite like the traditional tongue and groove flooring. However, it differs, as it has an interlocking profile around the edge – thus, the boards can be clicked or locked together. With click system, there is no need to use adhesive on flooring installation, and easy to remove the floor when installed floating. Besides, click system can be resistant to changes in temperature and humidity, no gaps, floor can be used directly after installation, it can be also beneficial for the Do-It-Yourself market.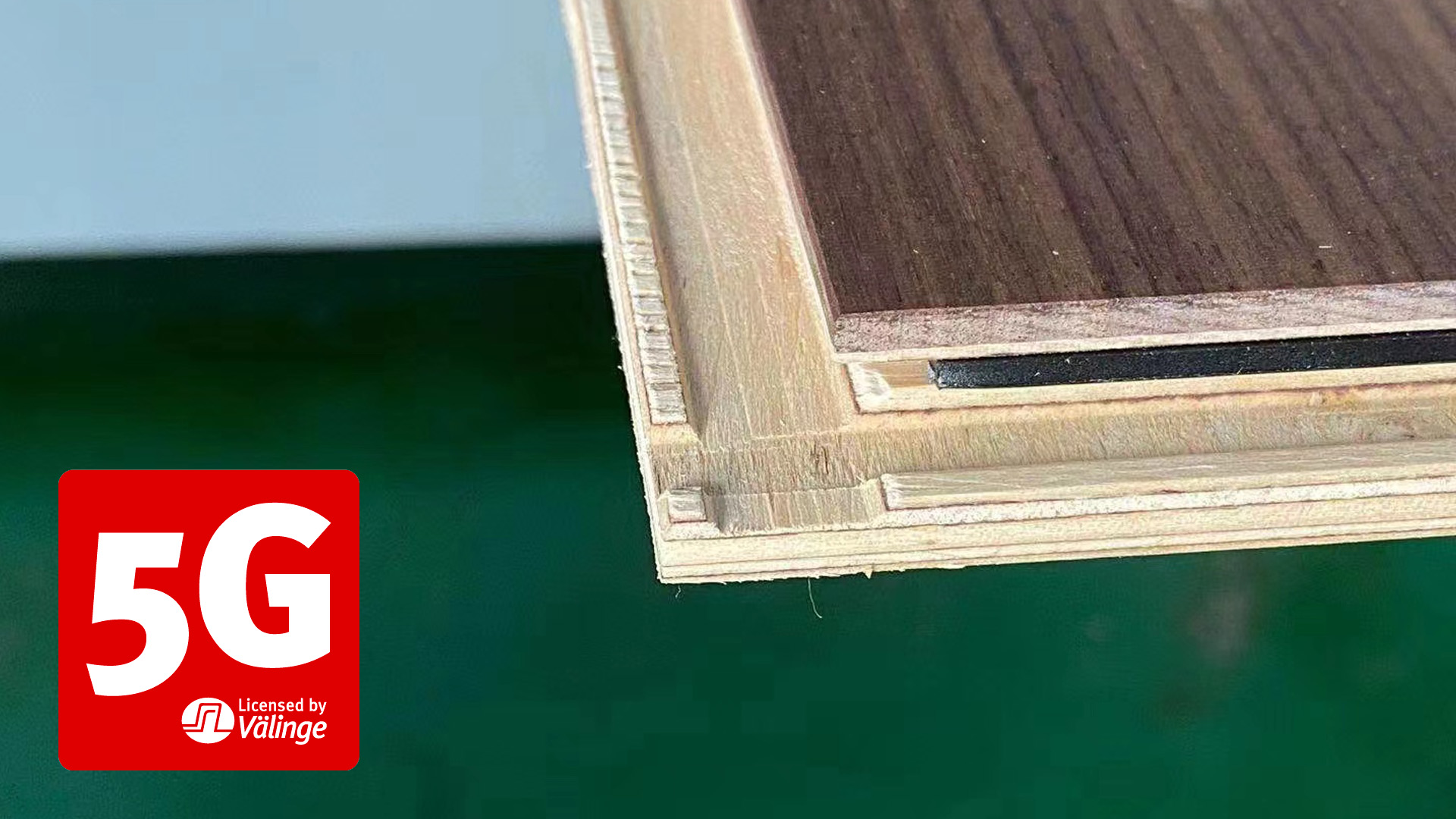 Pros
Incredibly easy to fit, perfect for DIY installations. If using a professional fitter, savings will be made due to reduced labour costs; on average these savings total around 20%.
Eliminates the needs for nails and glue, as the flooring locks in place thanks to the click system.
Easy to replace a damaged board, simply clicking the board out and replacing with a new one.
Due to its rising popularity, the range of designs and styles is rapidly increasing, giving you more options to choose from when it comes to your new Wood Flooring.
Cons
Click flooring can't be fitted over joists – it requires a solid subfloor underneath to provide sufficient support.
The flooring itself can be more expensive due to higher manufacturing costs.
As it needs to be used in a floating installation, click flooring requires a high-quality underlay to reduce noise and maximise comfort.
Tongue and Groove & Click Joint System Price
Tongue and groove engineered wood flooring price is cheaper than click system flooring with same wood species, dimension, oak grade, plywood etc.
Click System is more 1.5~2 USD/sqm expensive than T&G engineered floor, reasons are below:
When manufacturing, click system engineered wood flooring would waste more oak and plywood material than T&G floors, also including labour cost and electric power cost.