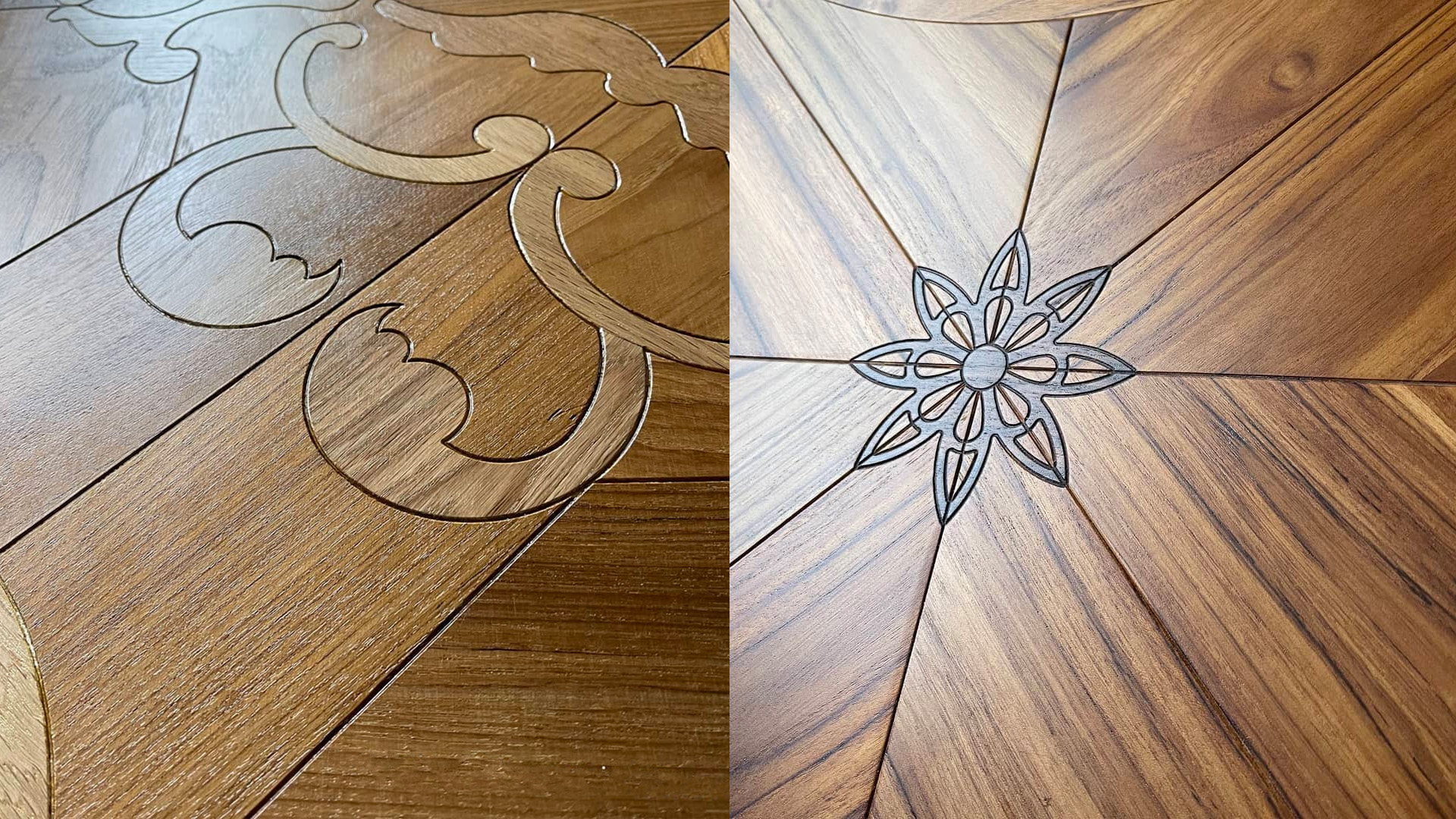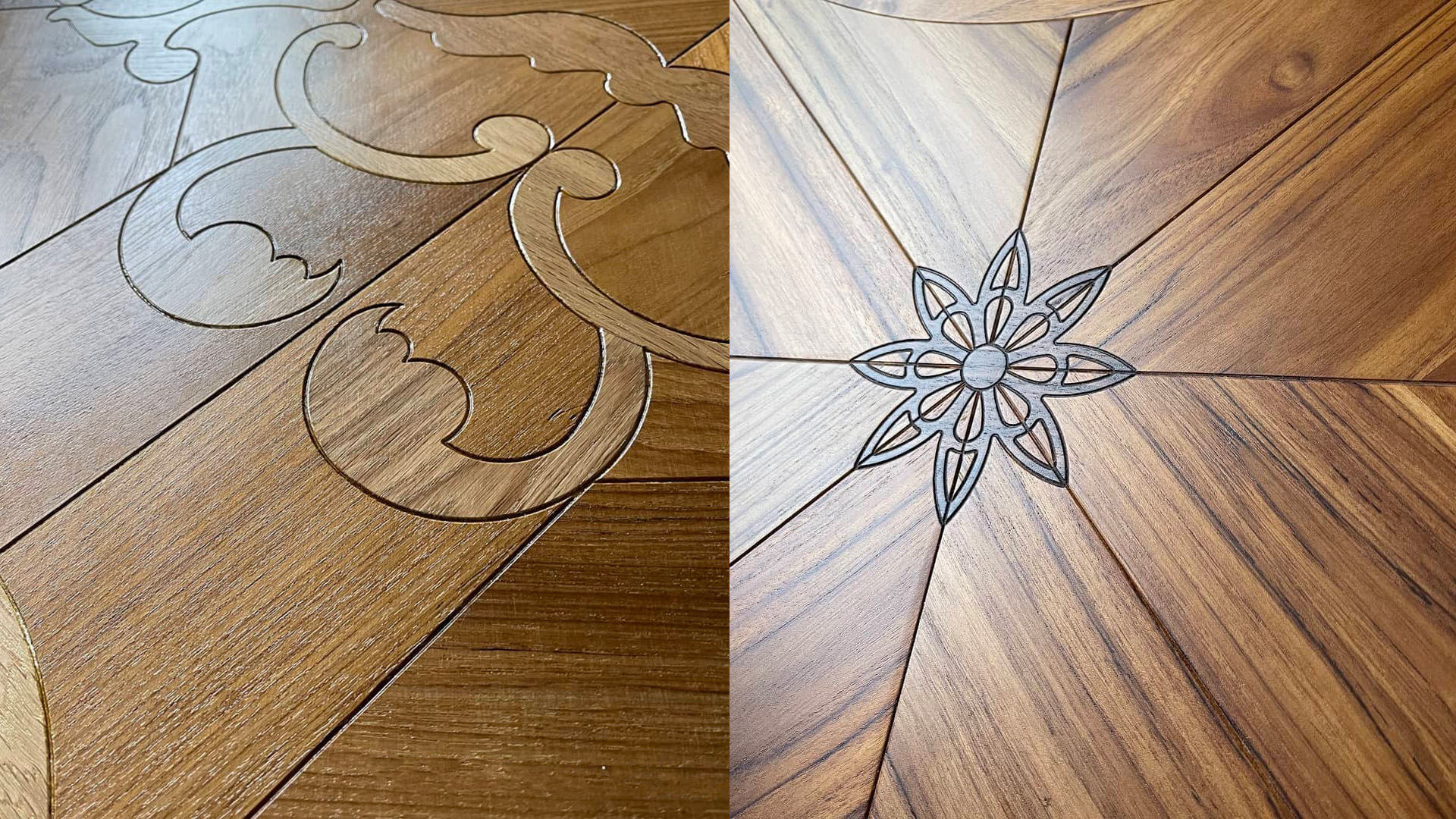 Scattered parquet flooring is a very beautiful and imaginative product, especially for engineered parquet, it's pretty popular in UAE, Italy and France etc, just as we know, parquet floors stems from 16th century France. At the same time, it is more complicated than common planks, chevron and herringbone wood flooring,  it need accurate calculation and planning when it comes to manufacturing. Now, it has become a mature flooring product in China due to China wood flooring factories rich experience on wood flooring, good craft and precision production equipment and technical personnel.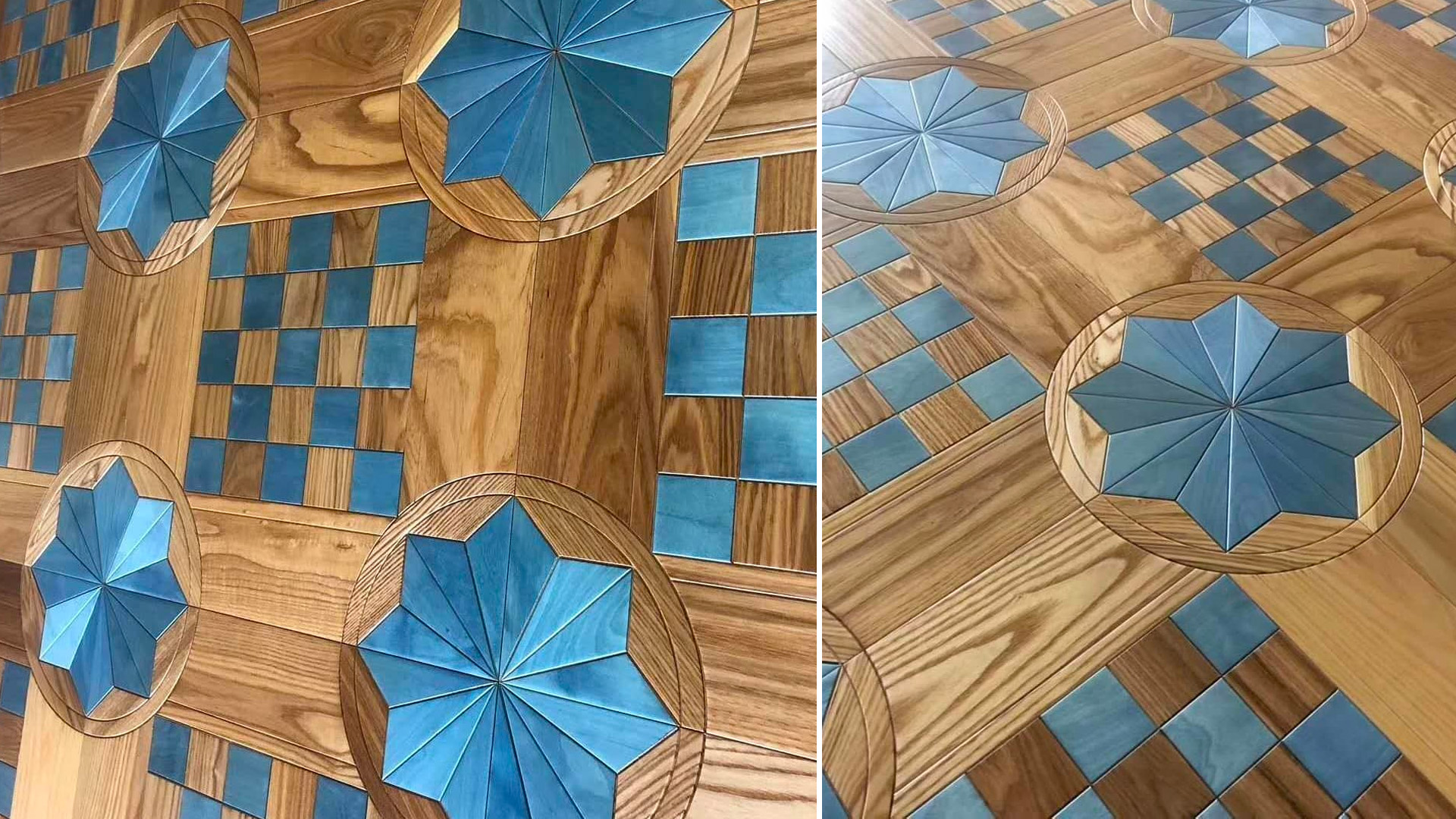 China best wood parquet flooring manufacturers are in South China, such as factories in Zhejiang, Jiangsu and Shanghai, it also means they are representatives of China best wood flooring industry. So, when you have any plans to import wood flooring or parquet flooring from China, these three places are your best options.
Let's get started overall manufacturing process of scattered parquet flooring in China.
First, we will communicate with clients about parquet floor colors, shape and patterns, dimensions, wood species, joint system(tongue and groove, 5G and 2G), plywood(core structure), surface coating requirement and package details, lead time etc.
Then we will share our clients demand to our design department and production manager. The most important part is that we ensure that all our clients demand can be meet and make finished product perfect and available before lead time.
Sample is the key factor for both of us. So, when you decide to buy parquet flooring in China, carefully checking out the floor sample is the first step to pick out the best Scattered parquet floor manufacturers.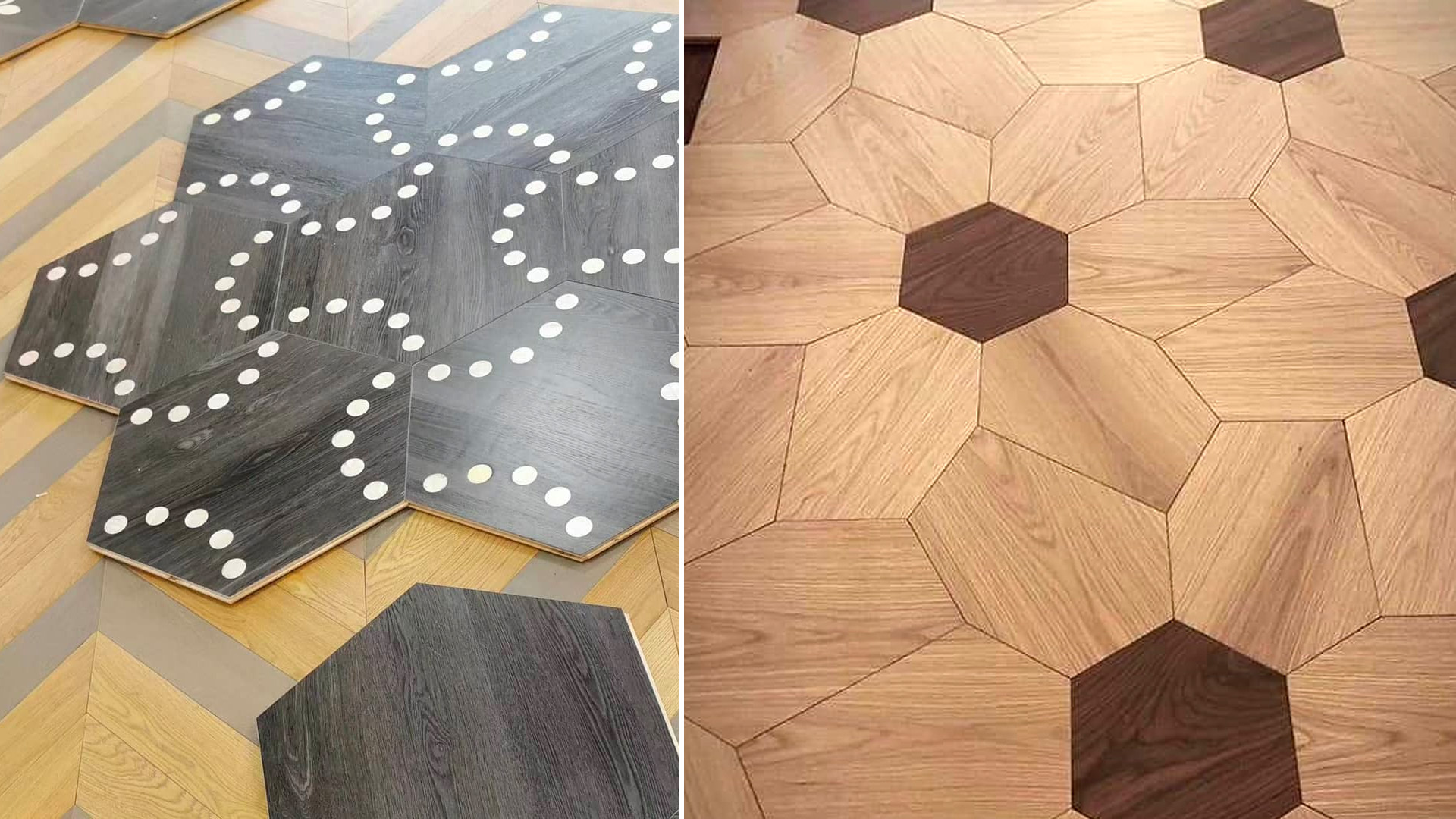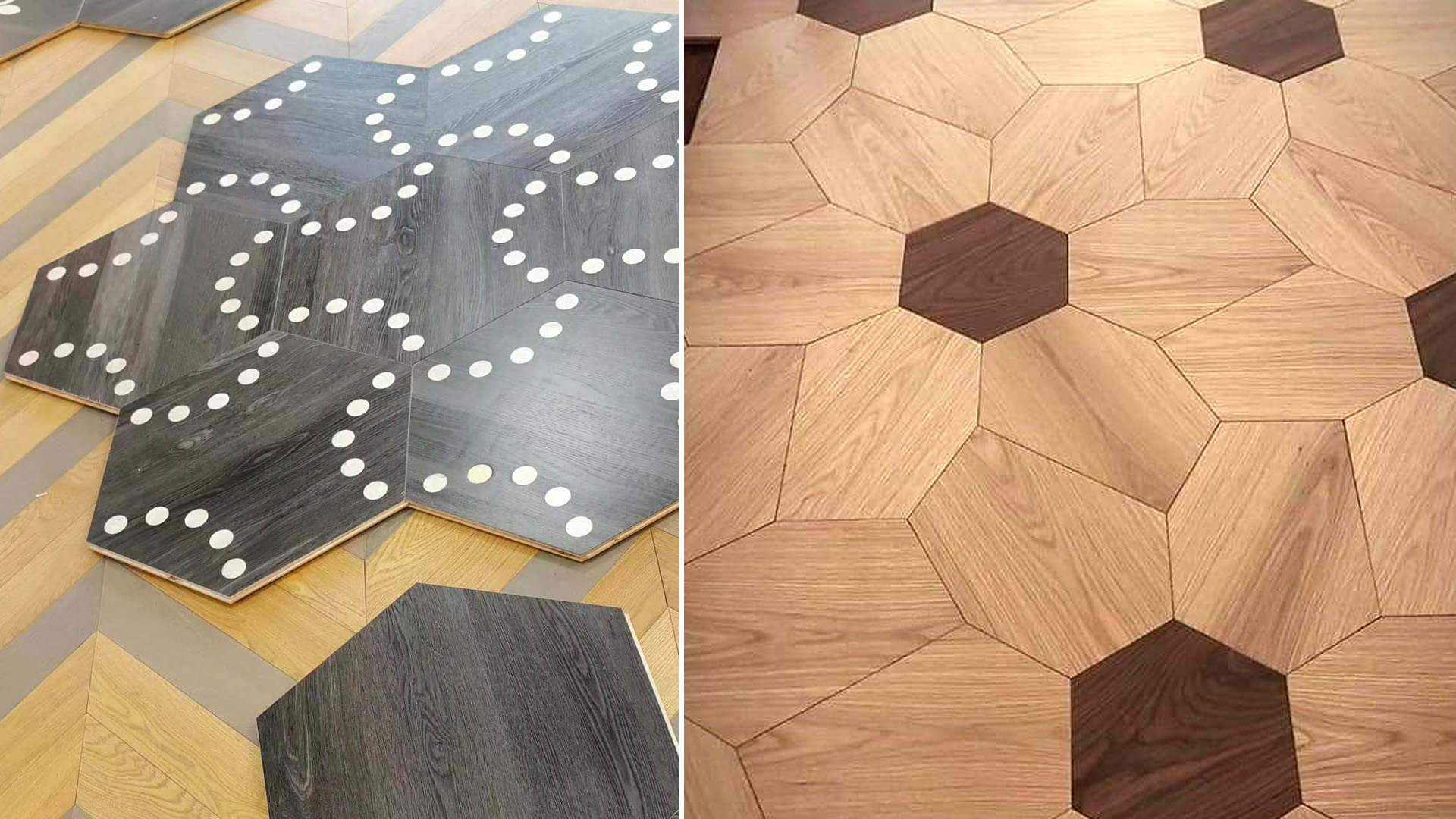 01. Oak & Walnut Veneer.
All our factory European oak, Russian oak, Black Walnut and Teak are bought from France, Belgium, Germany, Russia and America. These timber are sawn and sliced cut into veneers and veneers get dries through air dry and kiln dry progress. Then veneer will get to 7-11%(9+-2) moisture content suitable for different environment.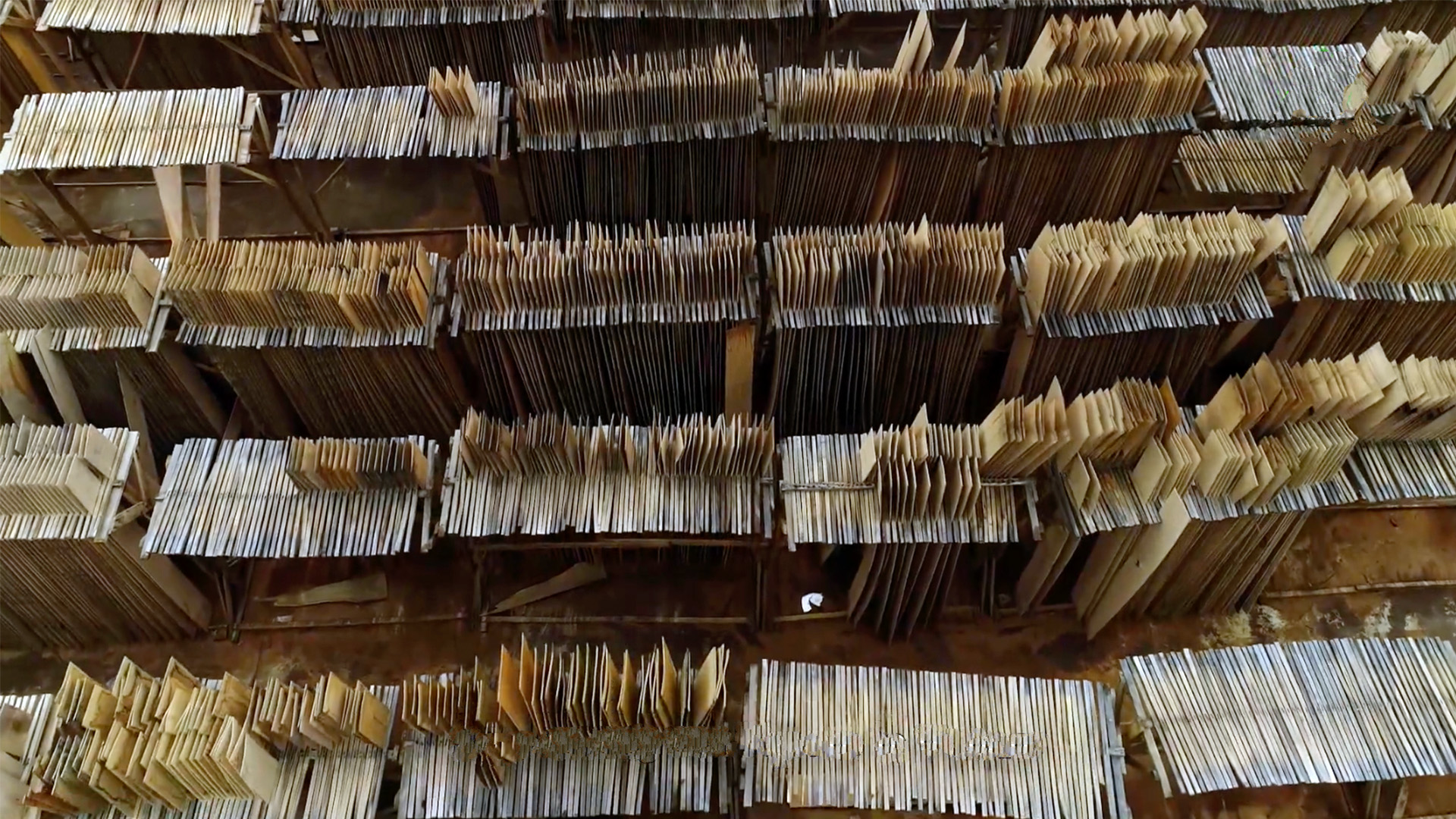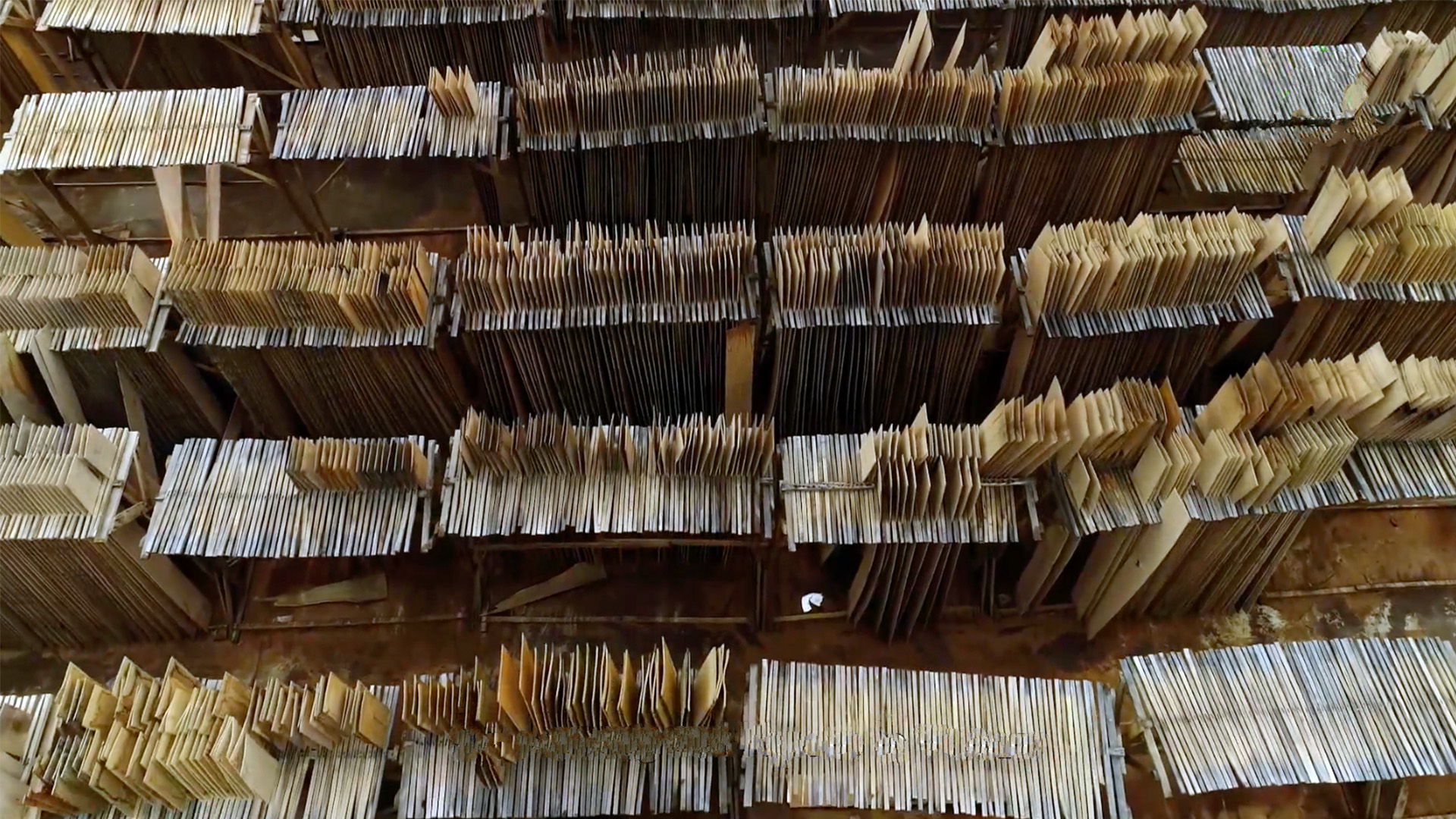 02. Eucalyptus & Birch Plywood Moisture Control.
Our factory eucalyptus and birch plywoods come from Australia and Russian, all these plywoods are made with same thickness of thin rotary eucalyptus and birch veneers (1mm-2mm) , before they made into plywood, they must be dried in 4 steps: Log air dry/Oven dry/Hot press/Moisture Balance kiln facility.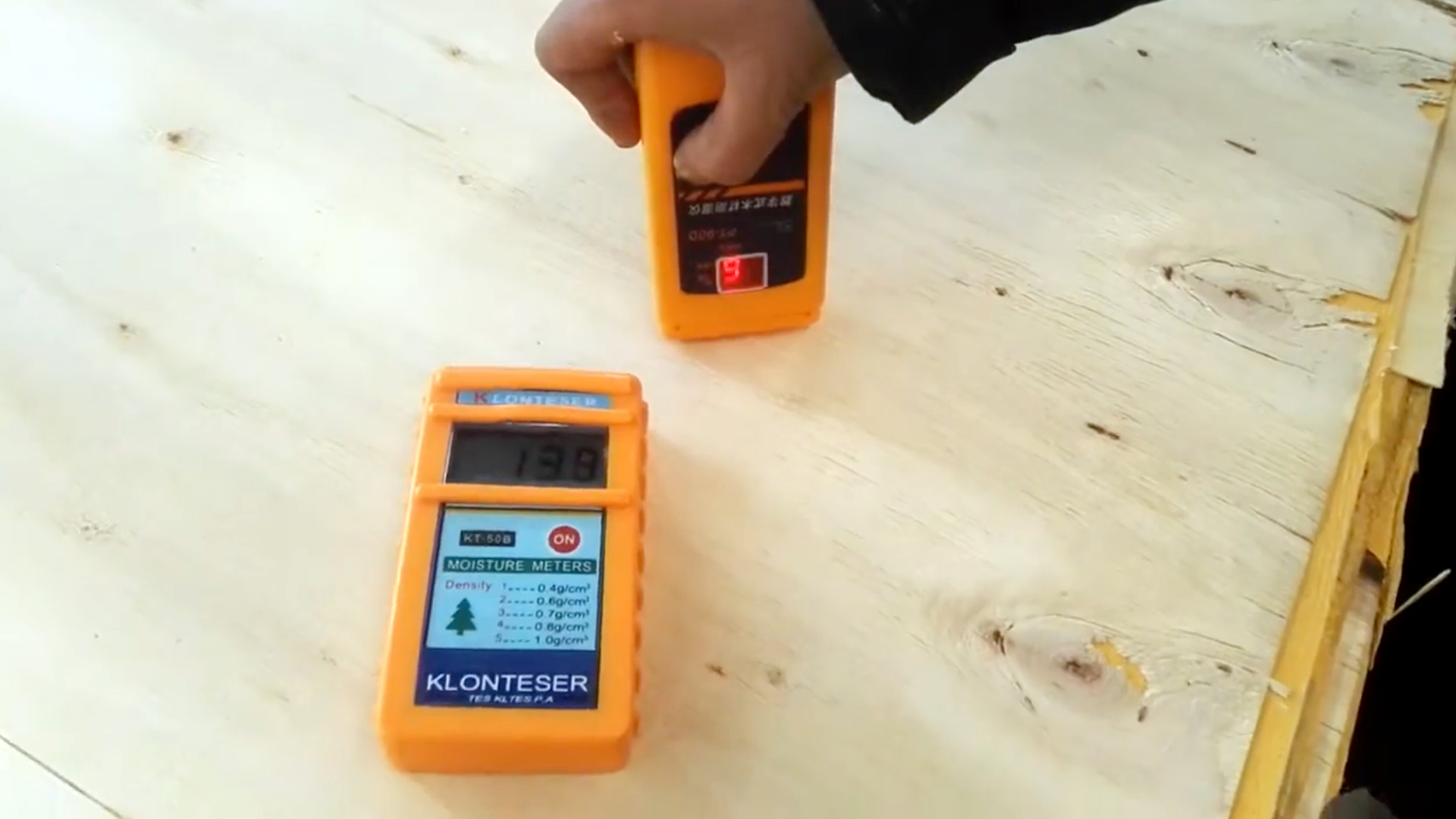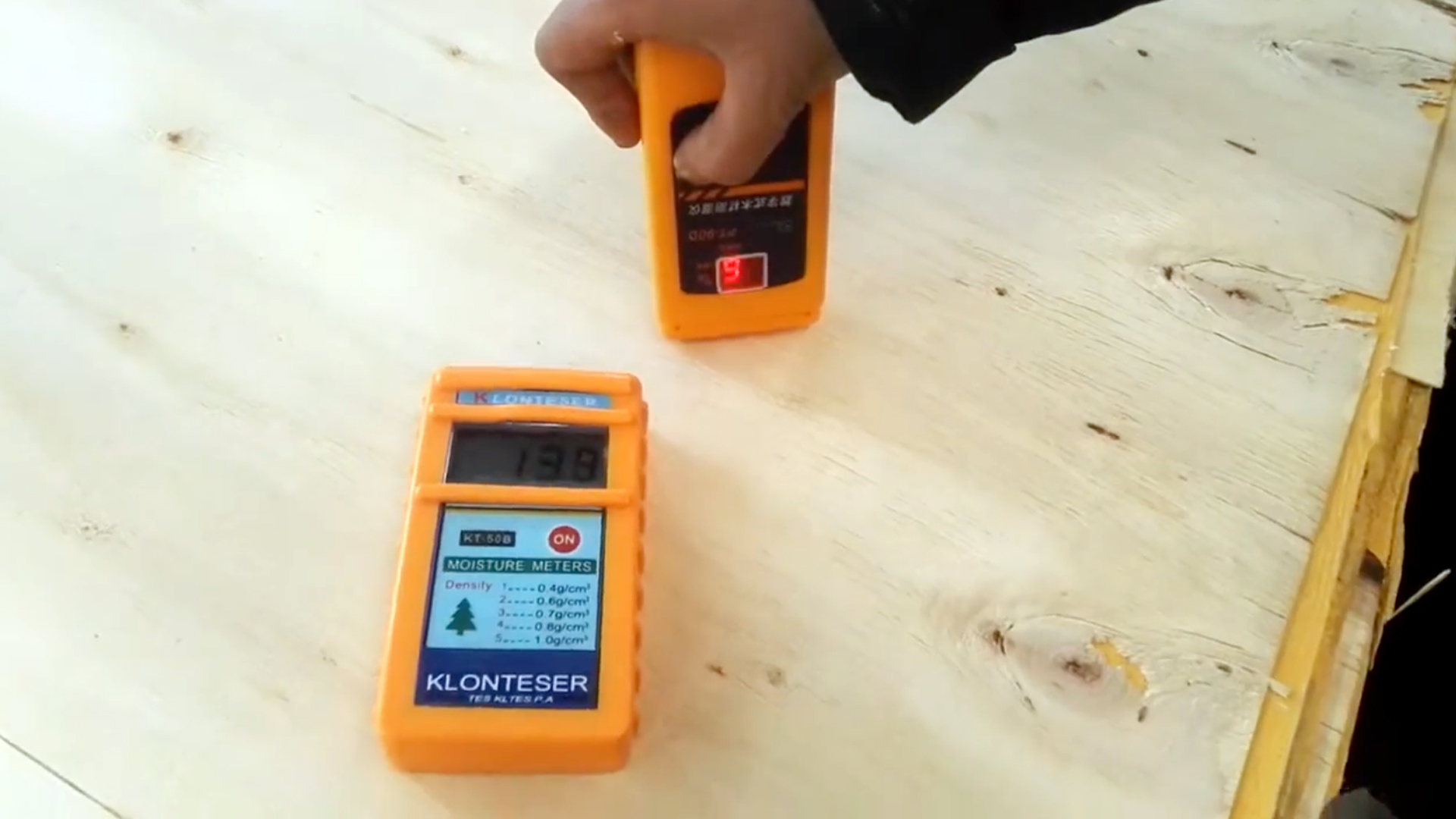 03. Oak Veneer Grade Sorting.
Next steps, veneers will be grades sorting with A, B, C, D, E according to International veneer grade rules and packaging with transparent plastic film to keep it dry and moisture content balance.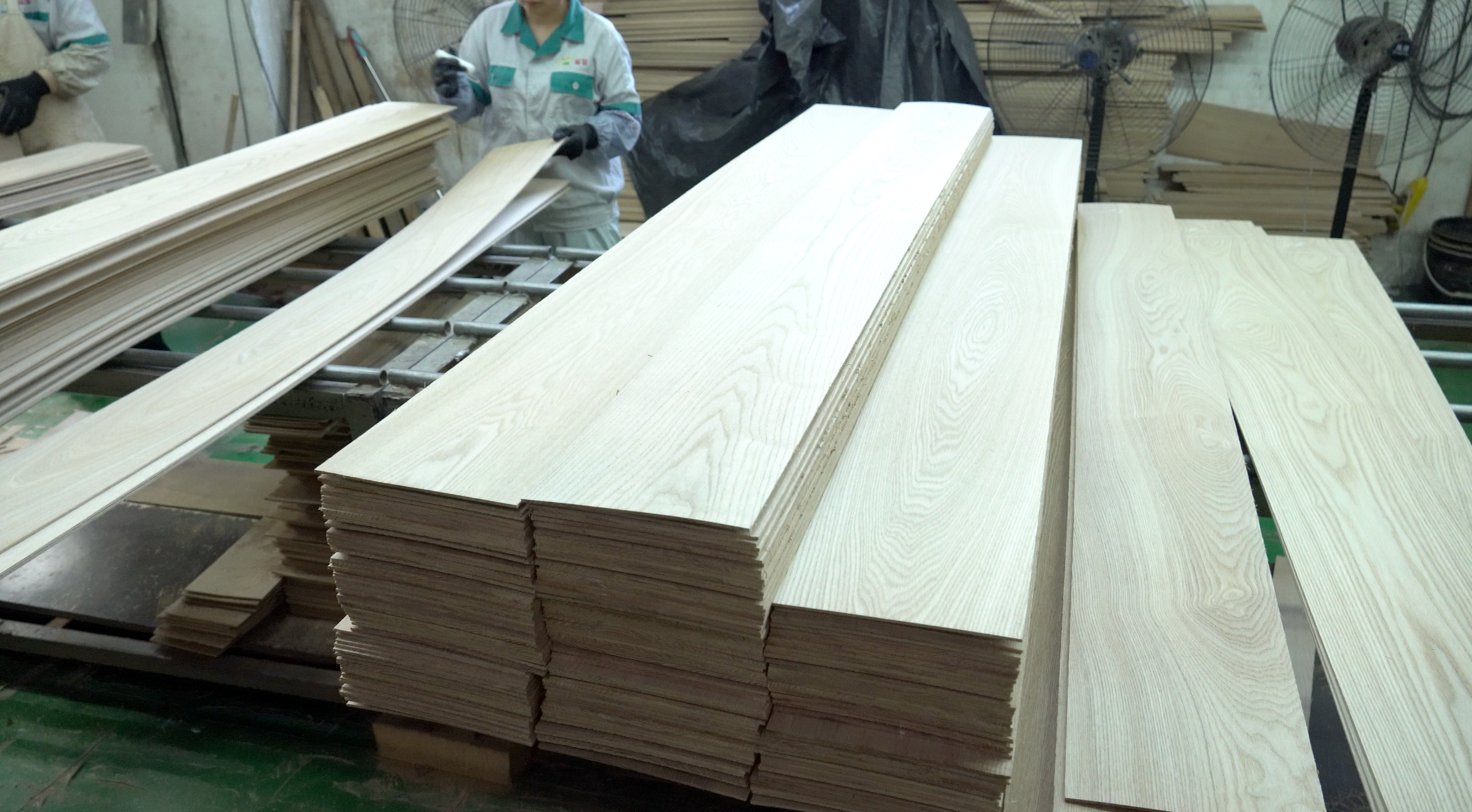 04. Oak Veneers and Plywood Moisture balance Control Balance.
Oak veneers and eucalyptus and birch plywood are put into kiln dry for the whole moisture balance control with 7-11%.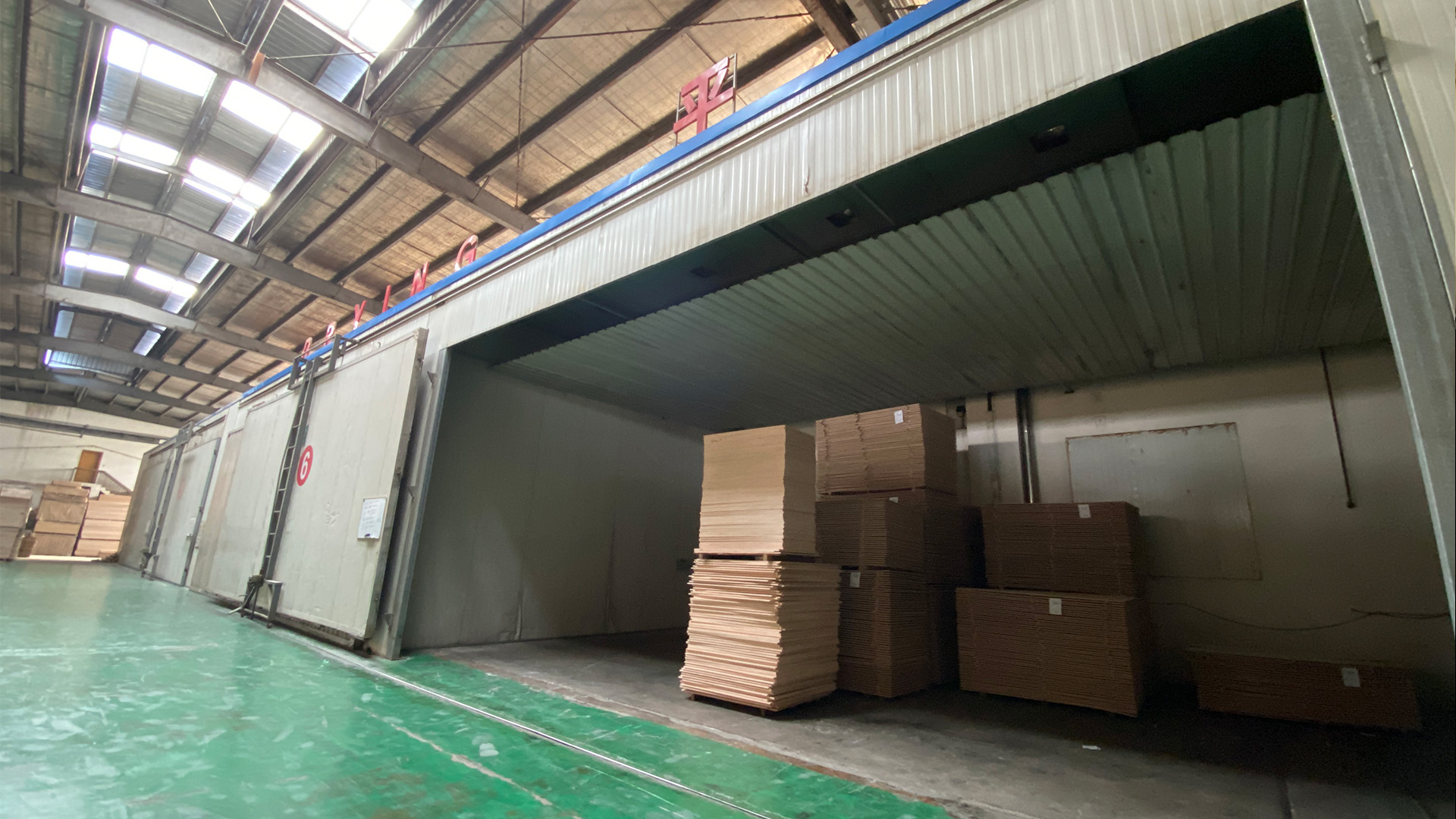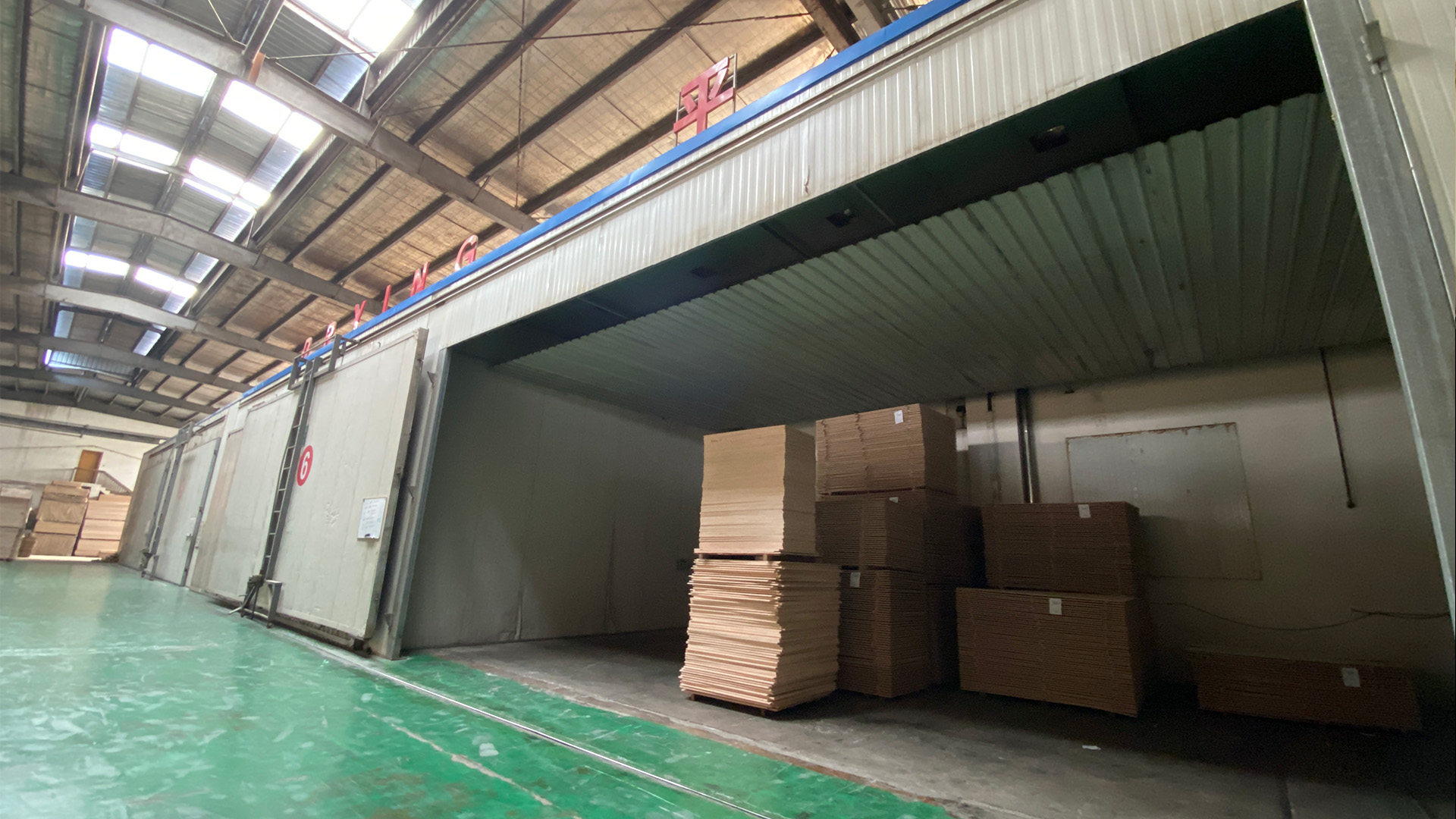 05. Veneer Laser Cut.
According to client designed shape and pattern, laser cut oak or walnut veneers other saw machine in our factory.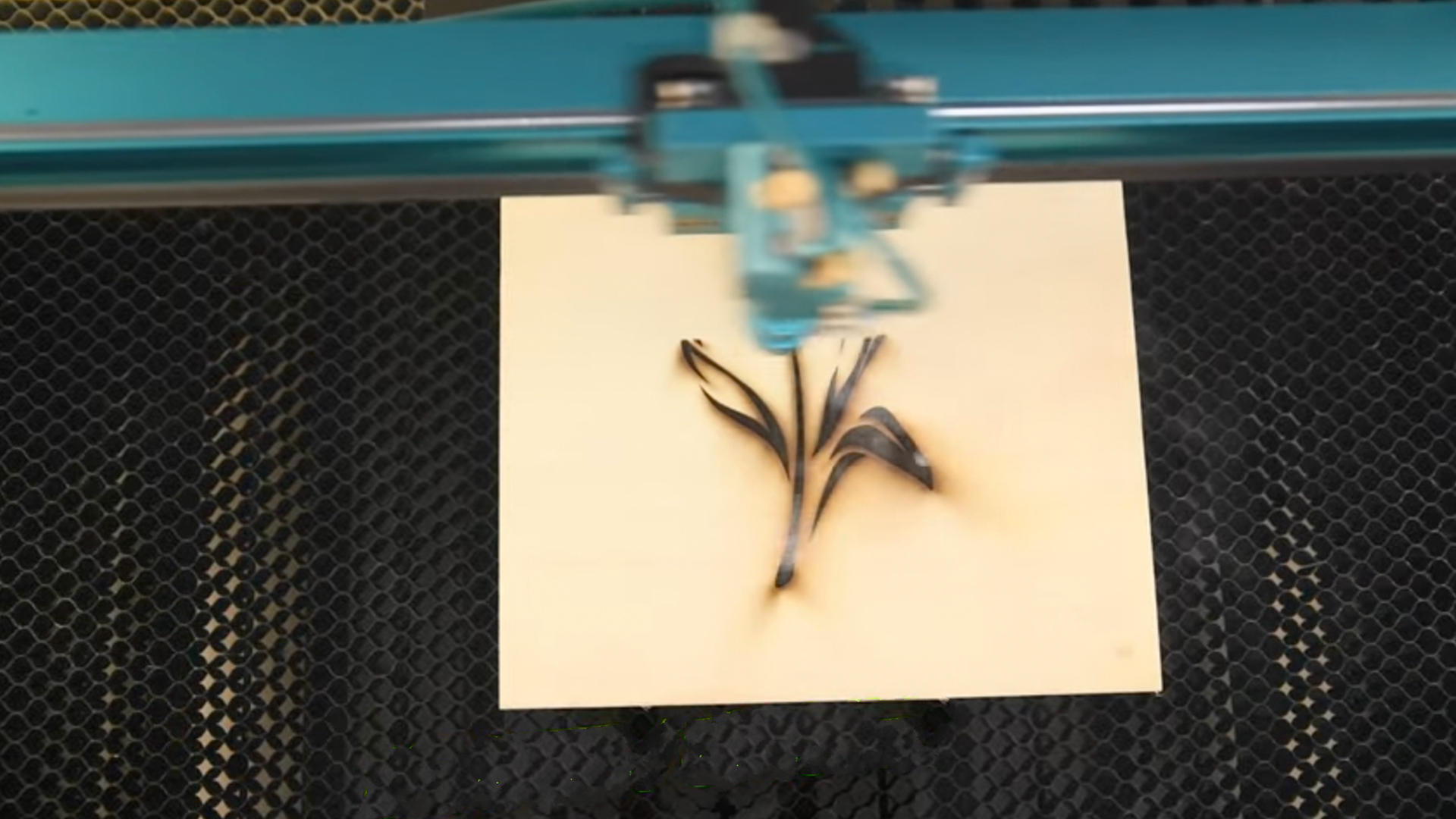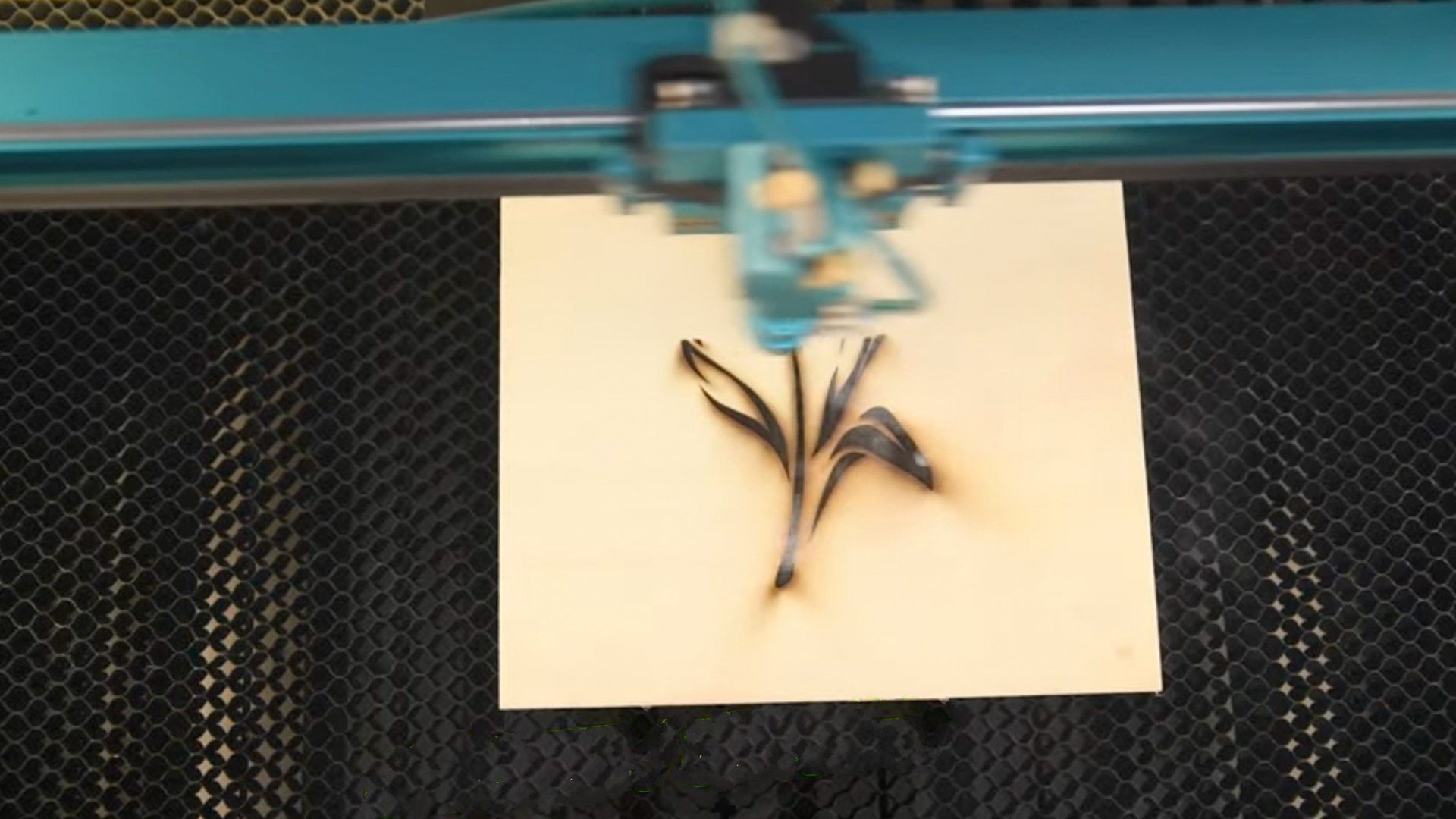 06. Veneer Knots, Holes and Spilts Defects Repairing.
Our colleagues fix knots, cracks and holes with brown, black and natural Epoxy resin(filler or putty).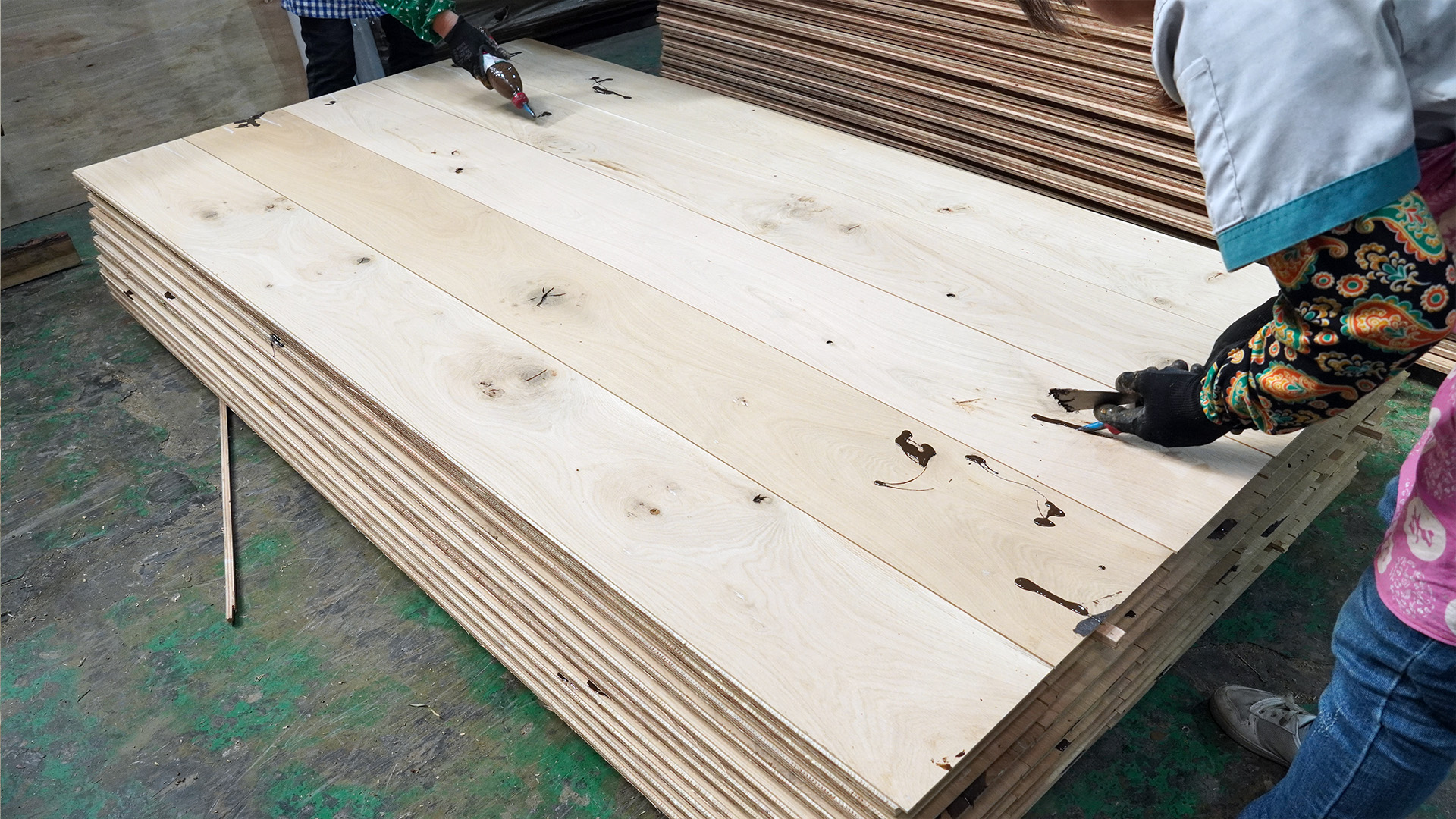 07. Veneer and plywood Cold Press.
Plank and Parquet repaired veneer and plywood are glued together with Franklin REACTITE EP921, then our colleague transmit all planks and parquet board floors to cold press machine under the pressure of 800tons for 40 minutes.
08. Finished plank cut into Pattern shape.
Cut the planks into designed pattern pieces according to client demands.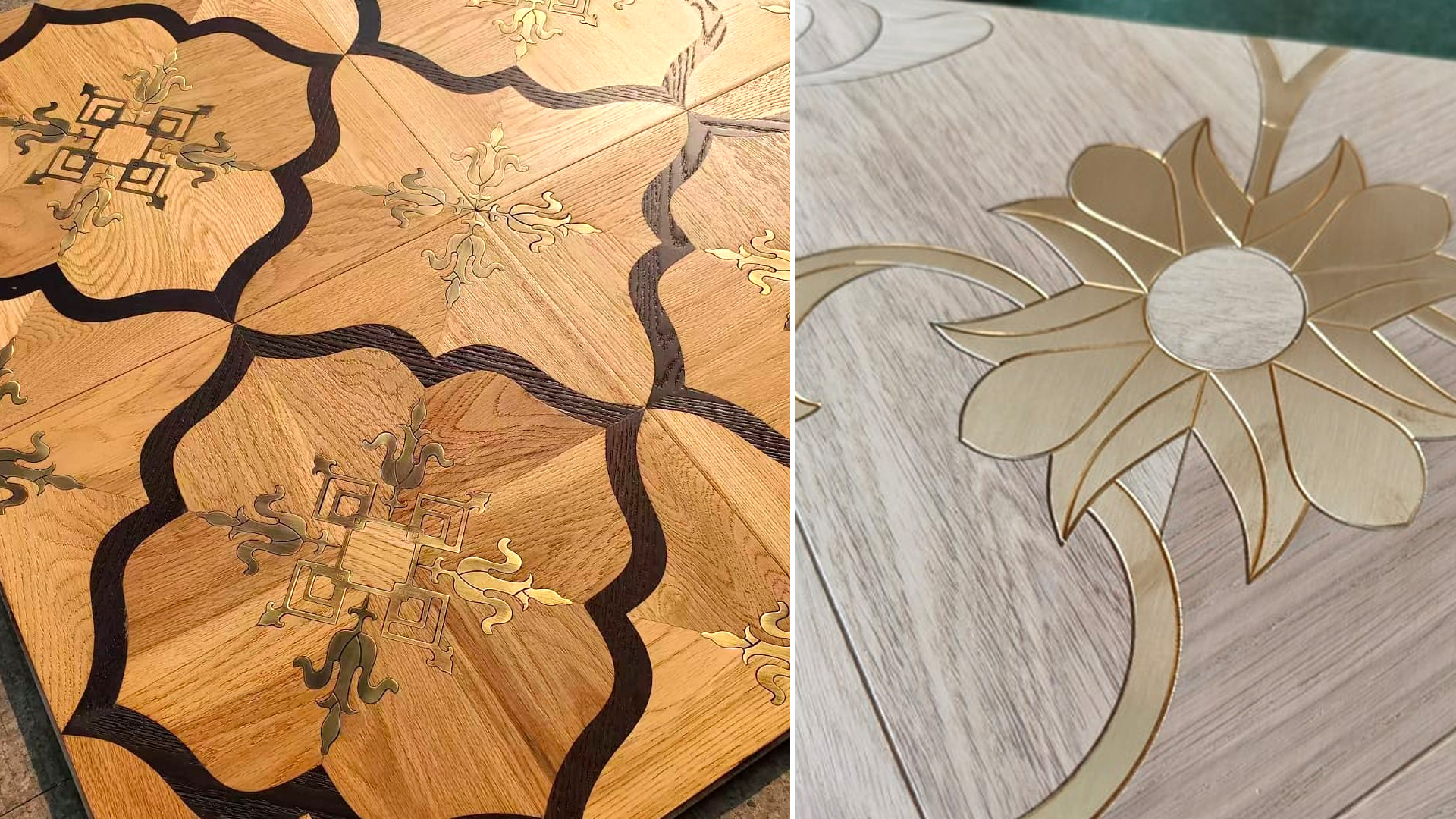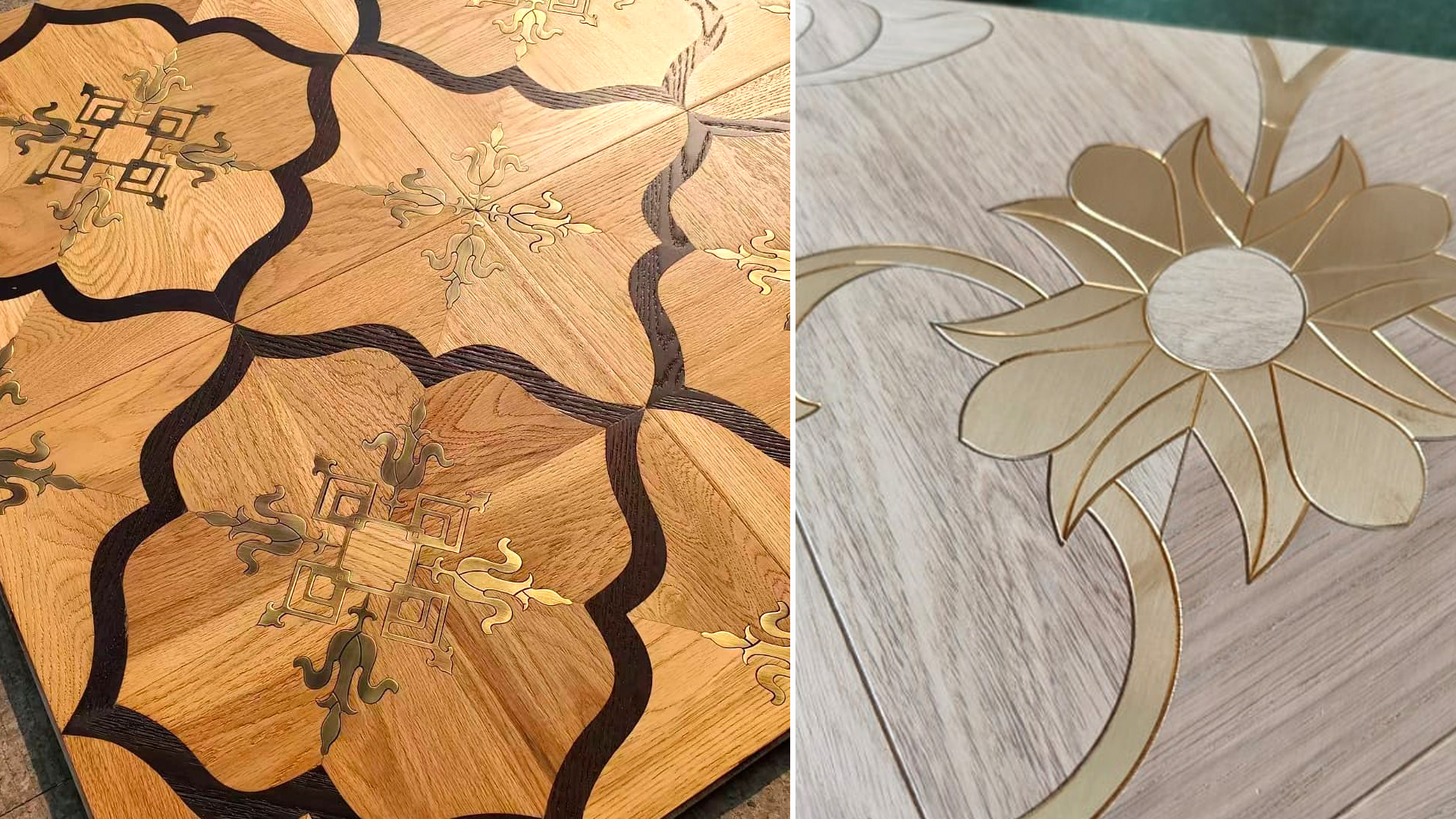 09. Parquet Sanding.
Sanding the surface of engineered scattered parquet floor to get even thickness before final step of production.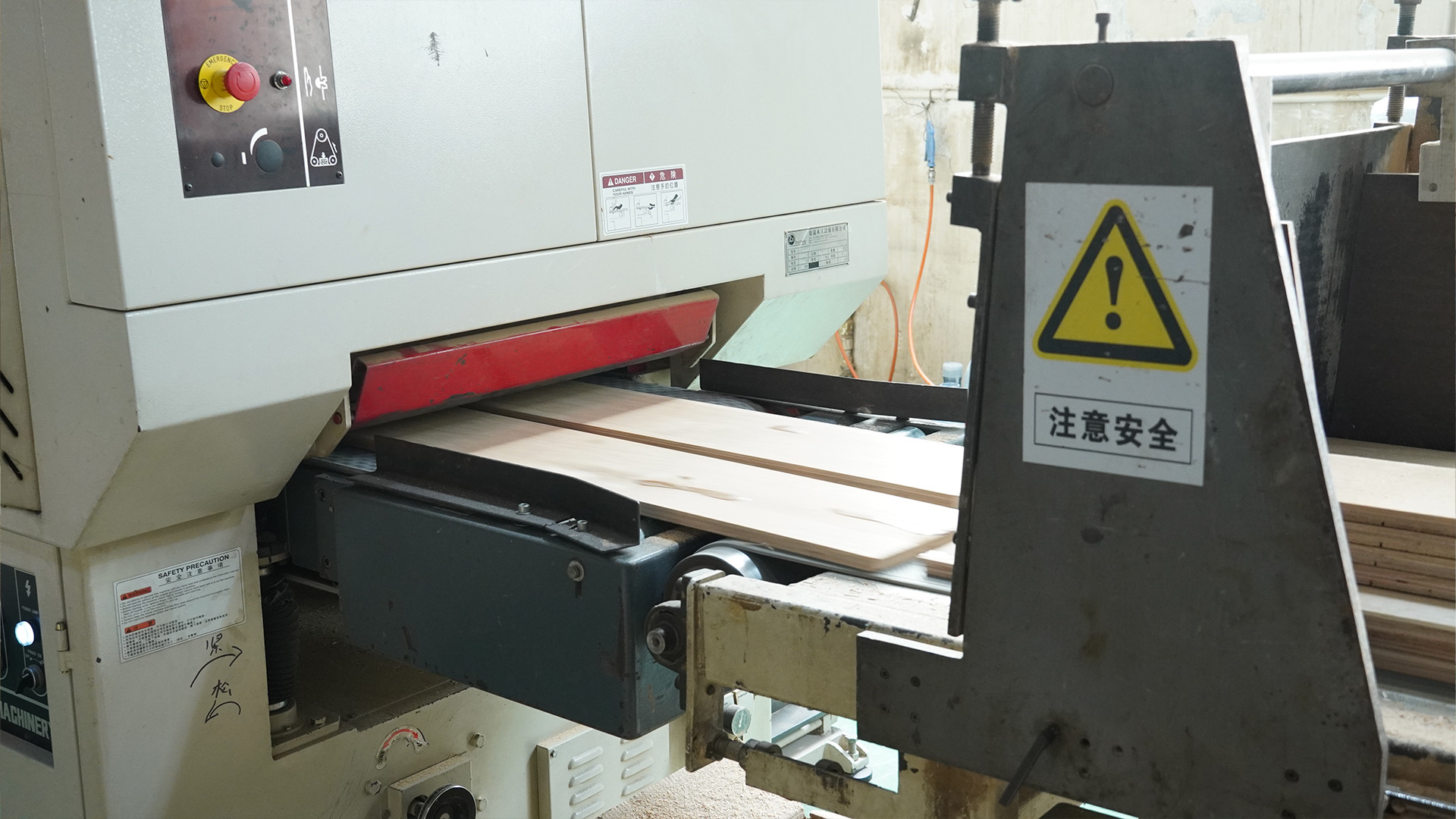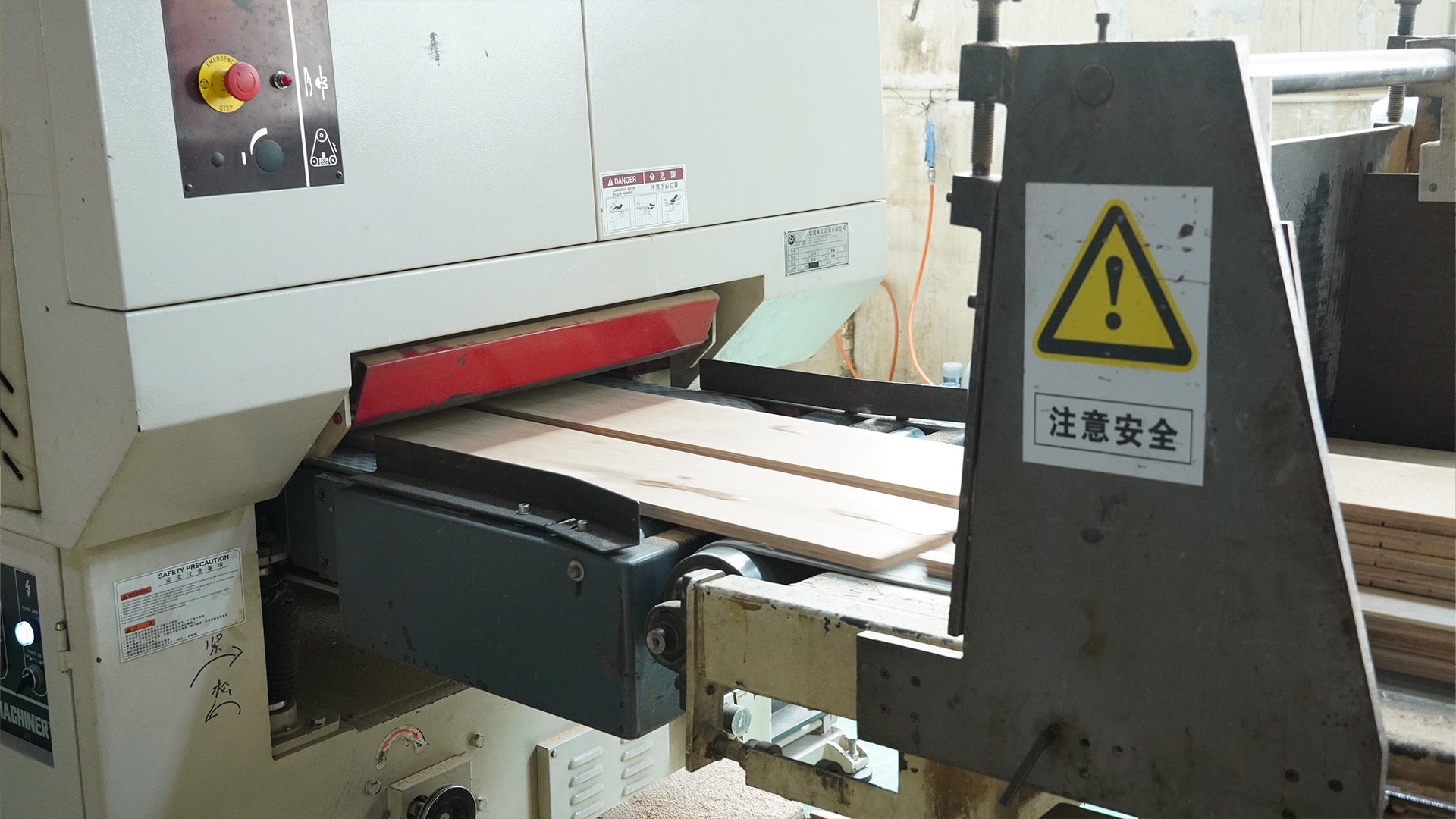 10. Floor Tongue and Groove and Bevel Progress.
Due to complicated design and strict requirement, parquet floors must have precious tongue and groove, plus bevel to get easy installation. So we have to carefully make exact tongue or Groove for each side in each single shape to ensure that they can combined to each other.
11. Surface Treatment.
Such as satin lacquer, matt lacquer, ultra-matt lacquer, oil, high gloss lacquer Or brush, hand-scrape, smoked, carbonized.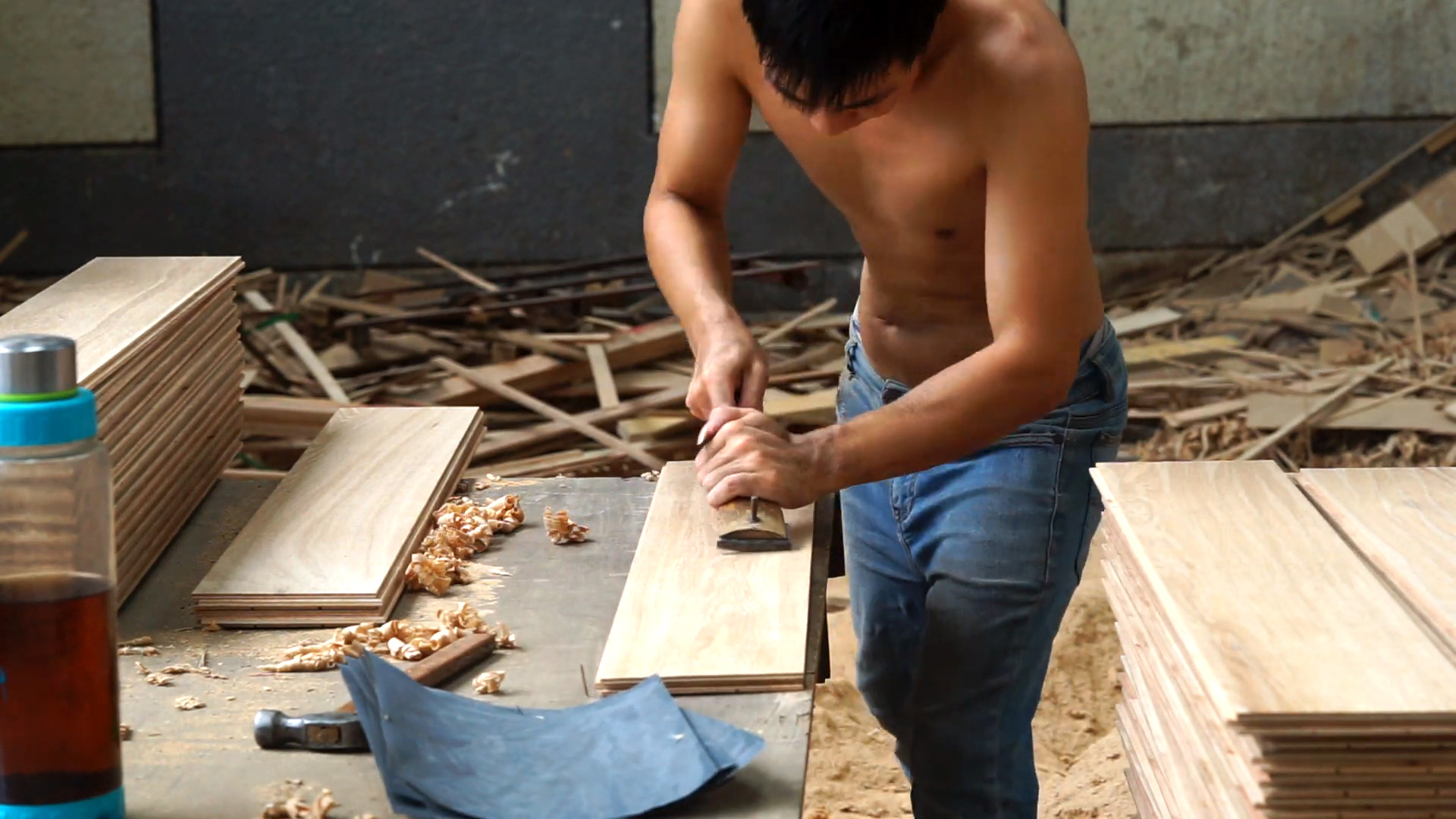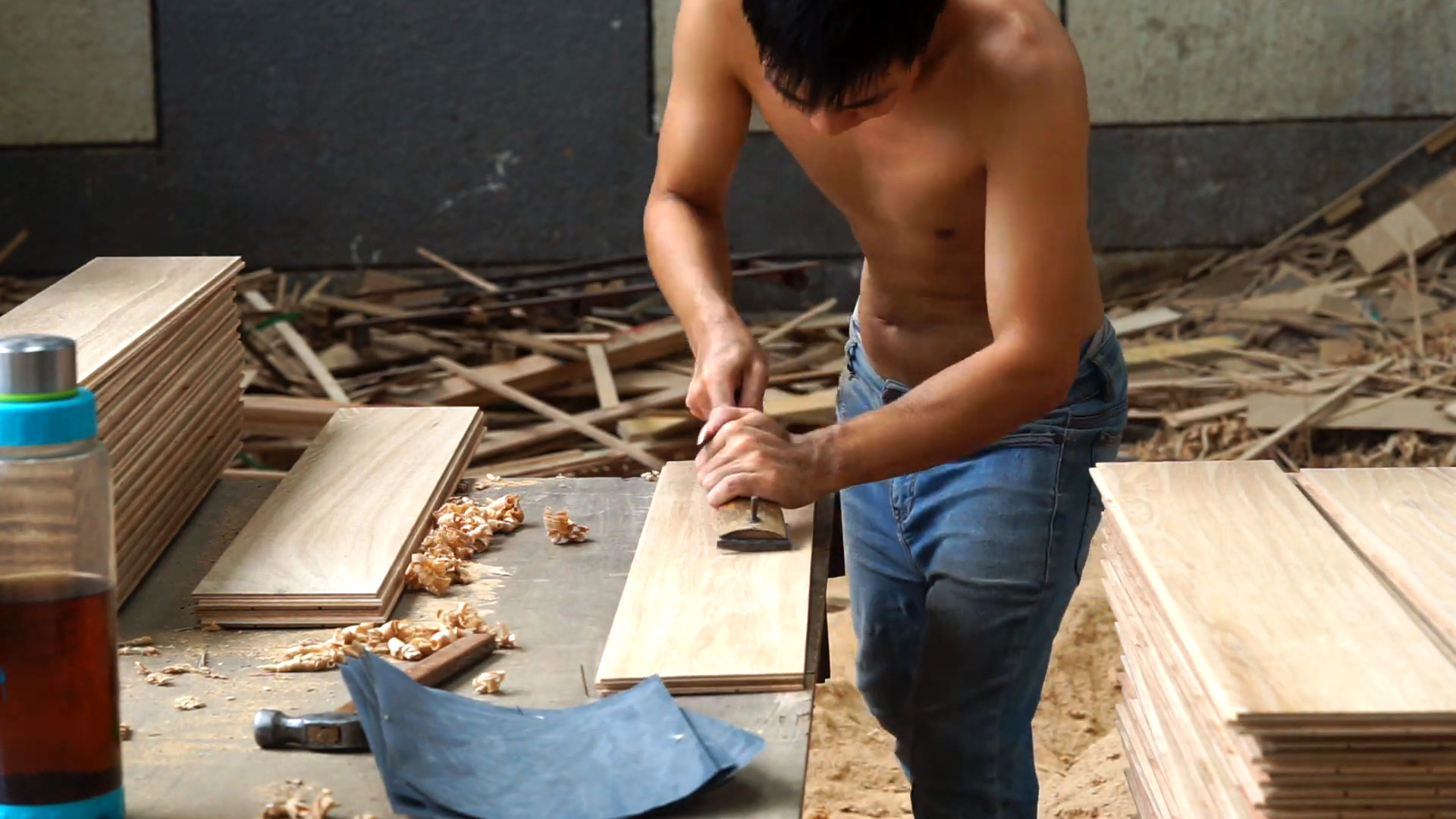 12. UV Lacquer or Oil Coating.
UV Lacquer & Oil Coating, unfinished flooring get UV Lacquer / Oil Coating finish on coating line with 7 layer (5+2) Germany Treffert UV coating prefinished, or Demark Woca Natural Oil finish.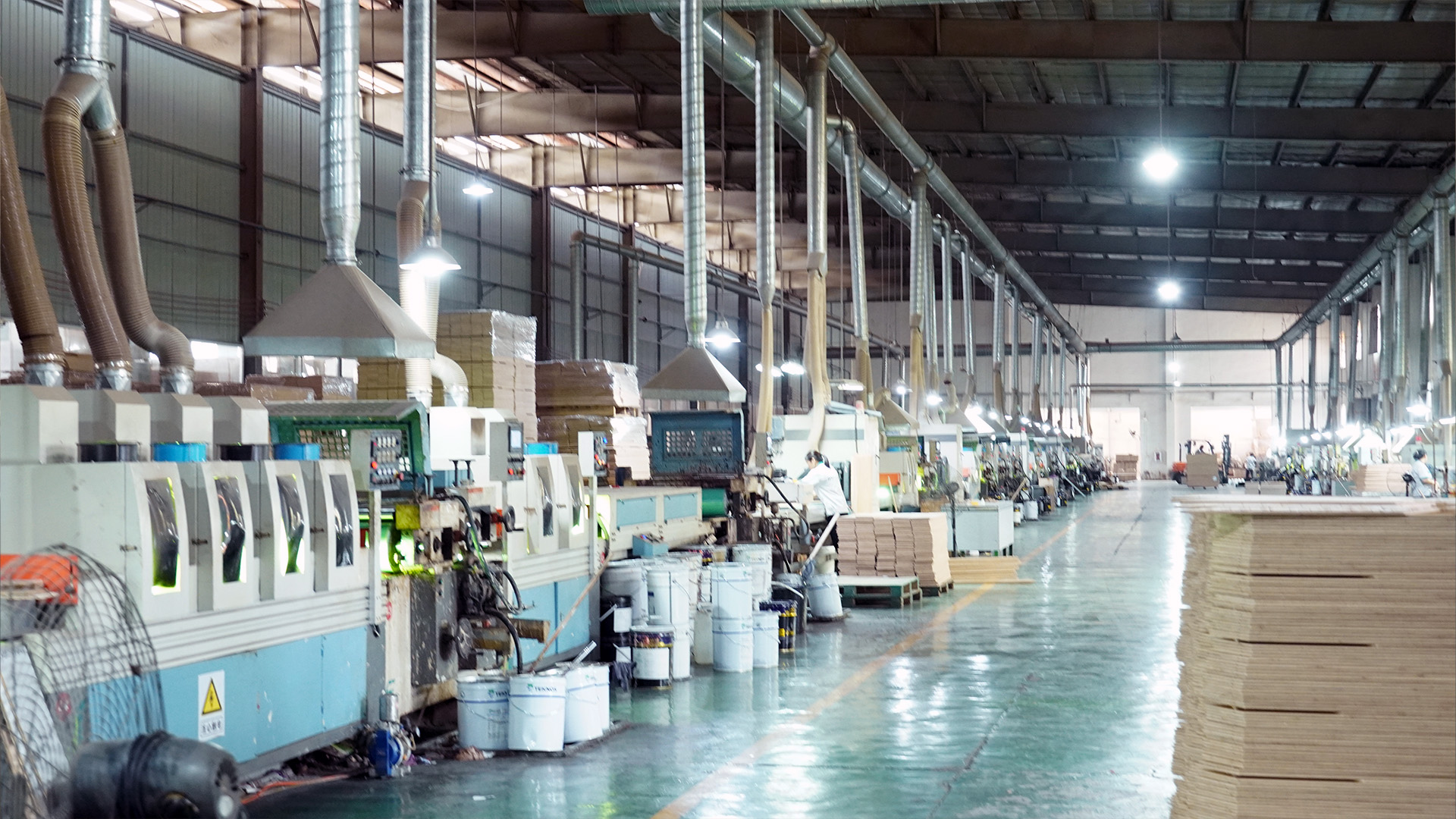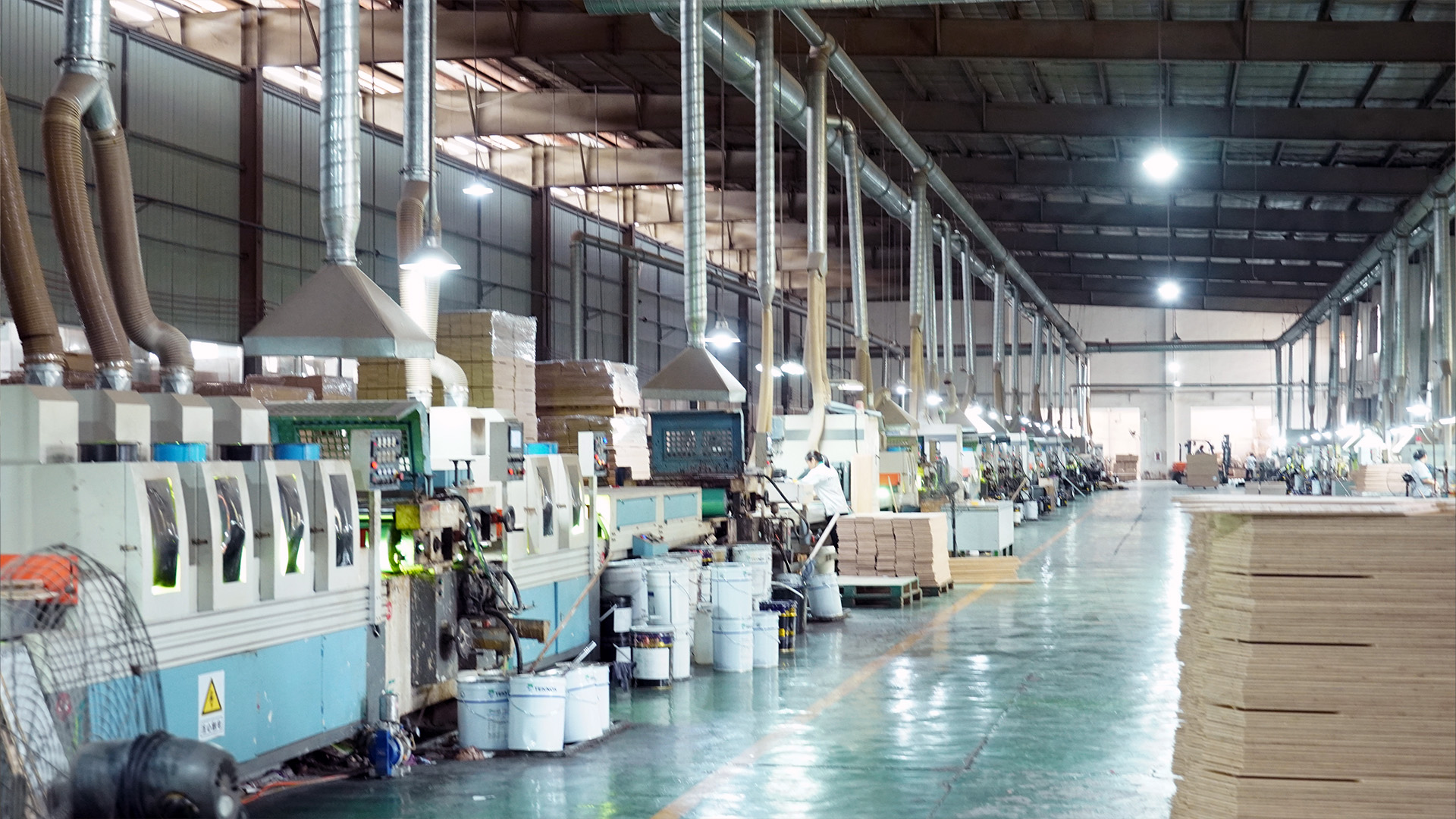 13. Packing and Loading.