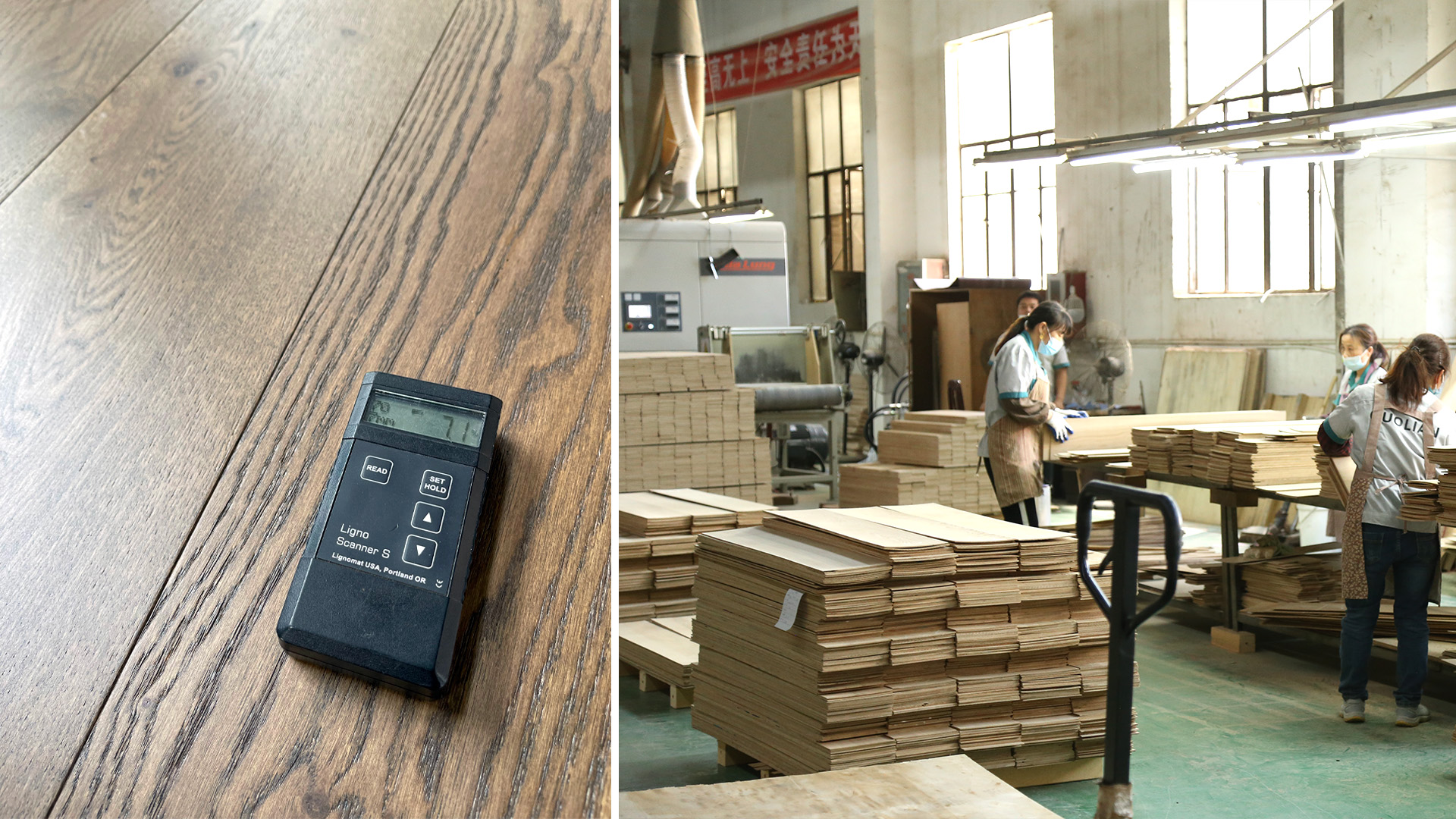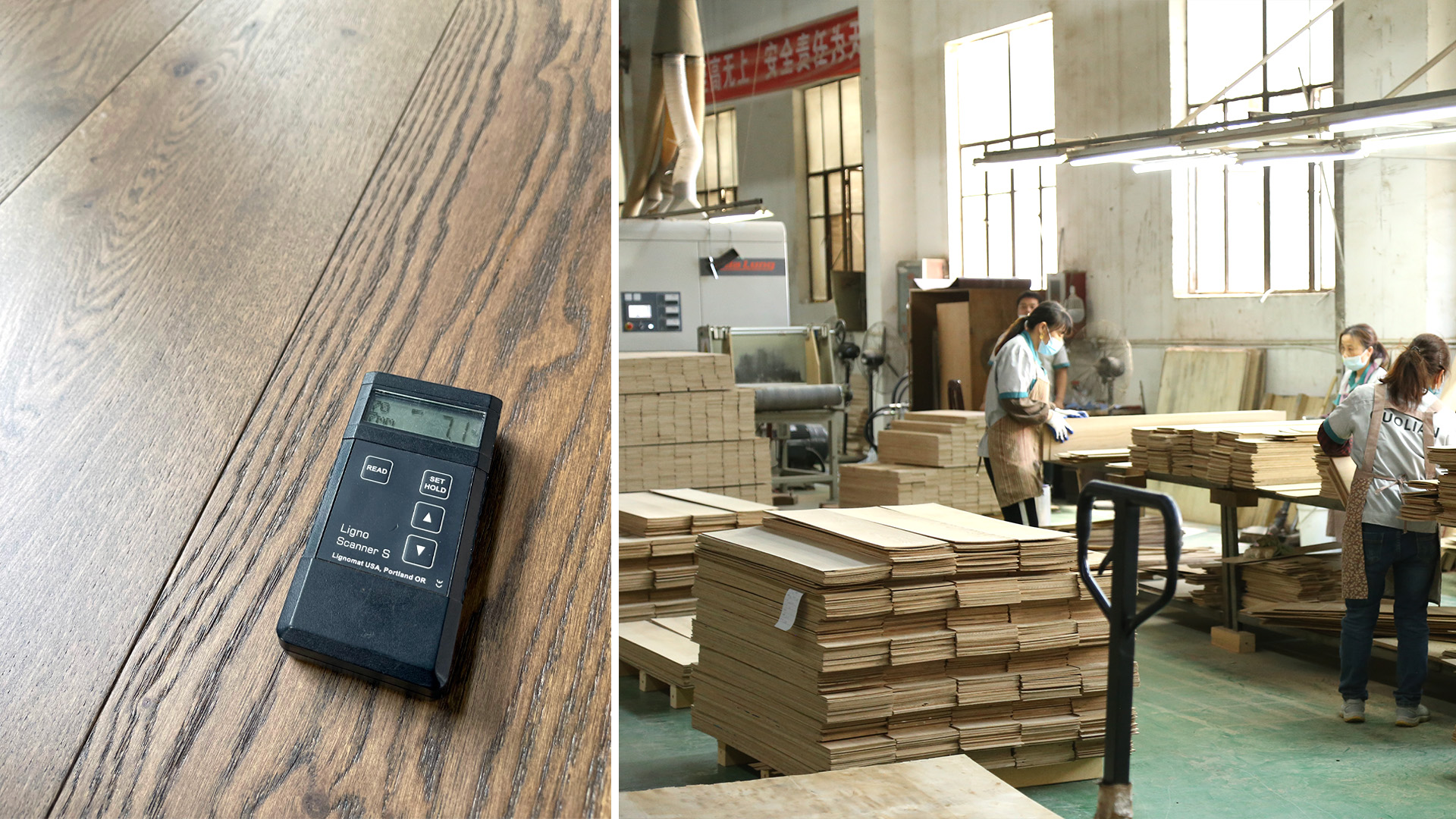 While buying and installing engineered wood flooring or solid hardwood flooring, you may hear about terms of moisture content(MC) and relative humidity(RH) from sales man and professional flooring installation expert.
You may be confused about equilibrium moisture content if it's your first time to dip into engineered wood flooring. Let's make it clear so that you can pick up the best engineered wood flooring from manufacturers and flooring suppliers.
What is moisture content of engineered wood flooring and RH?
Moisture content means how much water is in the engineered wood flooring, equilibrium moisture content (EMC) represents moisture content gets to equilibrium state at which wood flooring neither absorbs nor releases moisture since it is at equilibrium with the climate condition of ambient environment.

Humidity measures how much moisture is in the air. You can know how comfortable it is to be outside through it, and you will see beautiful clouds and rain if there is enough moisture in the air.

Relative humidity is a measure of how close the air is to being saturated. If the relative humidity is 100%, the air is saturated. If the relative humidity is 50%, the air contains half the water vapor required for it to be saturated. If the amount of water vapor in the air increases, the relative humidity increases, and vice versa.
Wood is a hygroscopic material, it would expand and contract(expand and shrink) when ambient climate condition changes over time, it means moisture or water vapor can shape performance of wood. When the relative humidity of wood increases, wood expands, relative humidity of wood decreases, wood contract.
What is safe moisture content of engineered wood flooring?
In general, the most safe moisture content of engineered wood flooring is 6-12%, relative humidity is 30-50%, temperature is 60-80°F(15.6-26.7°C).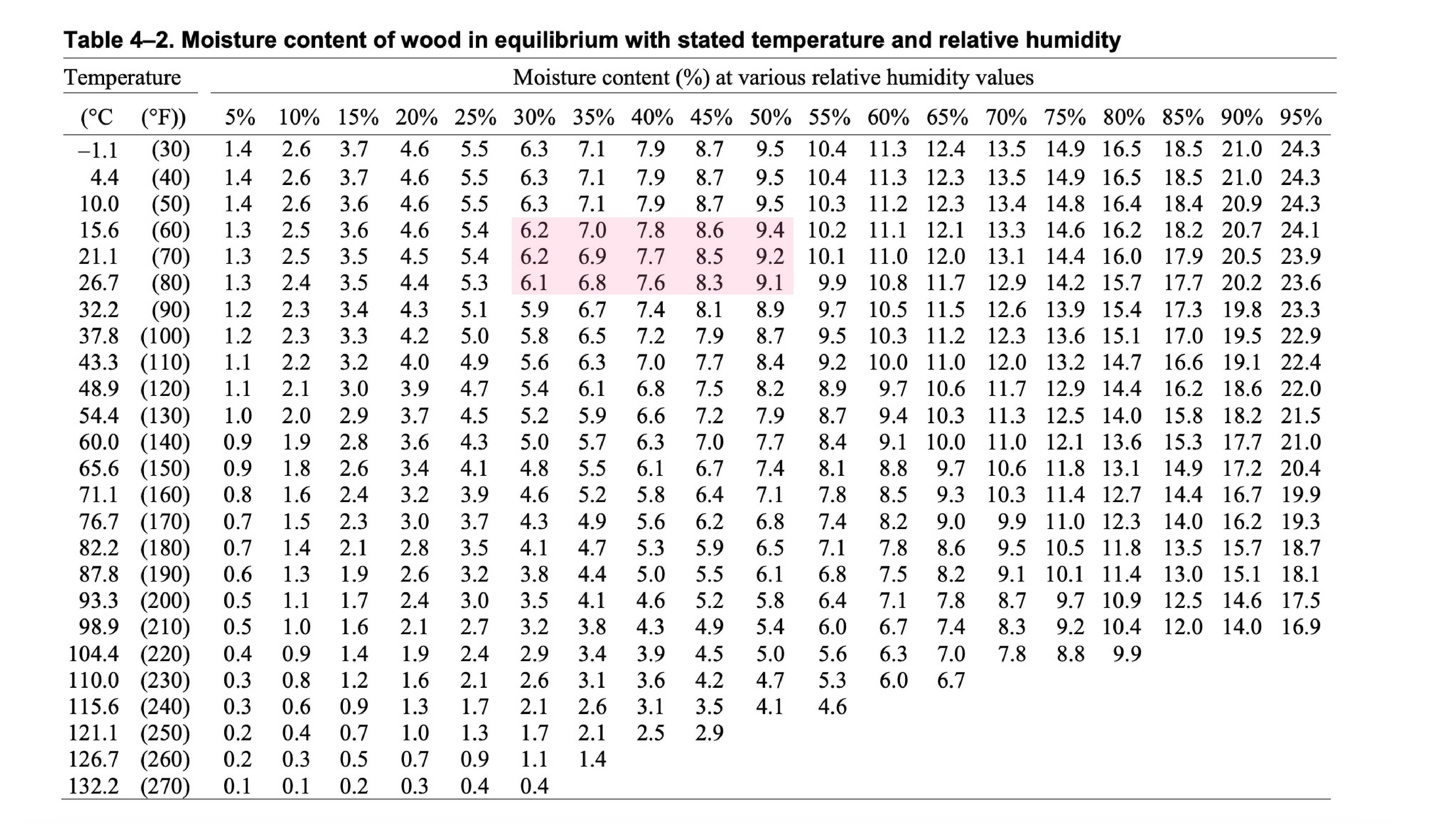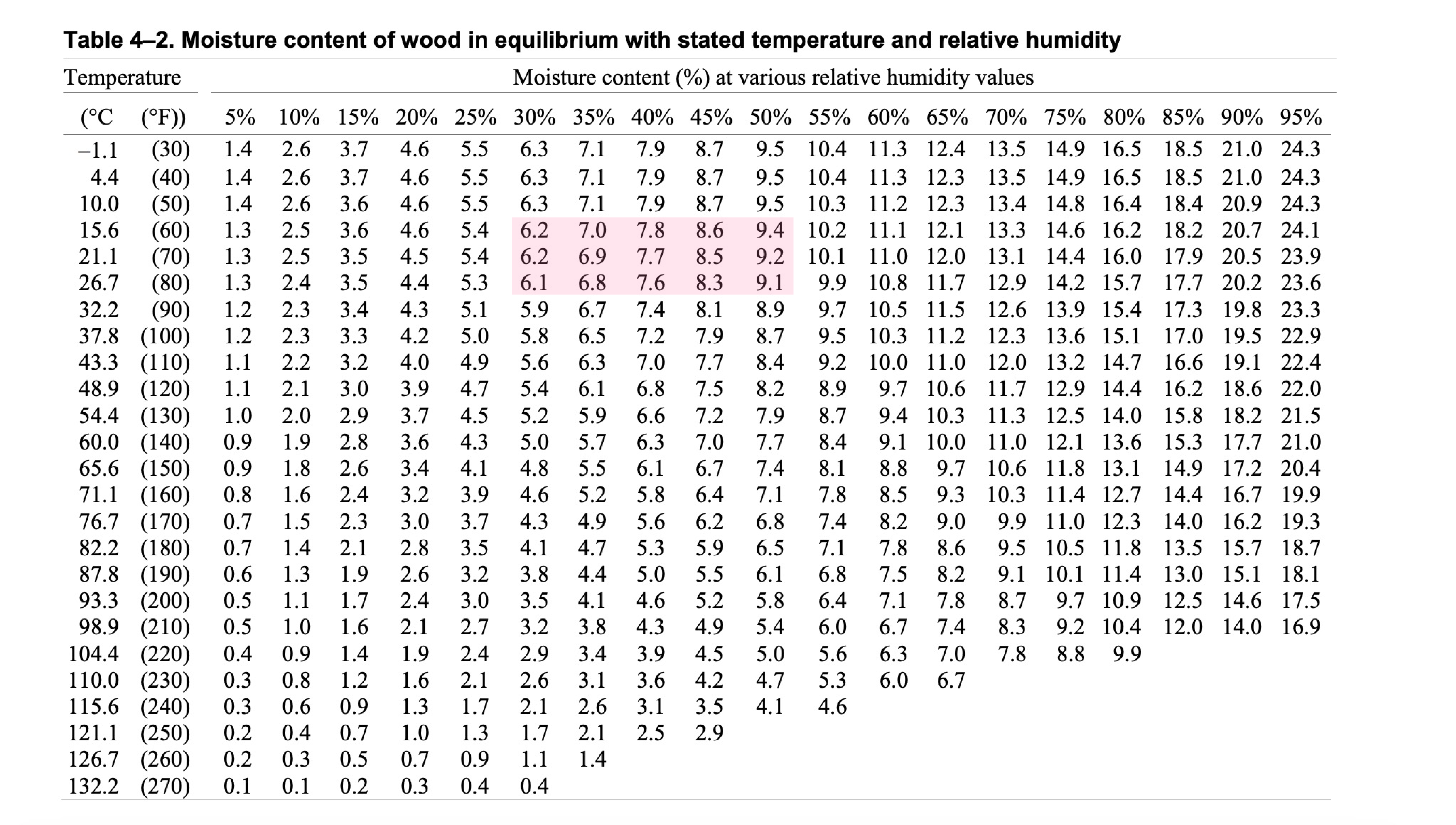 Reference: Wood Handbook – Wood as an Engineering Material
When exporting our engineered wood flooring to counties near to the Equator, we kiln dry and acclimatize our flooring with moisture content of 7-11%(9±2)%. If exporting to high-latitude areas, such as Canada and Netherland, we do our flooring with moisture content of 6-8%(6±2)%.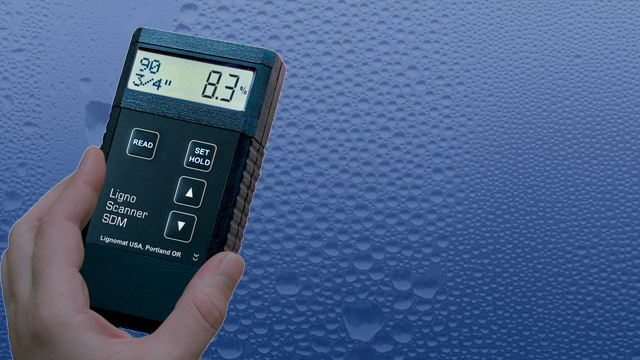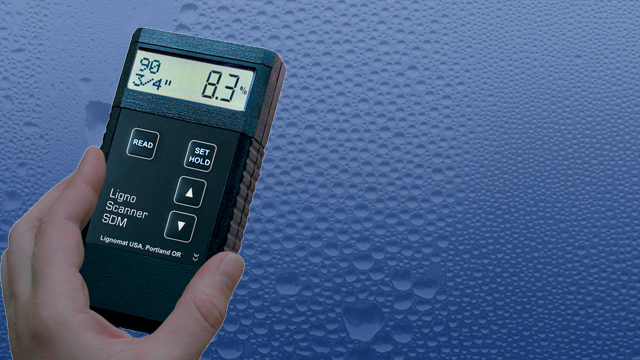 Our factory use USA brand Lignomat Pinless moisture meters who can test the moisture content of wood flooring in mere seconds. There are 2 types of moisture meters on the market:
Pin meters  – it use electrical resistance to measure the presence of moisture in wood flooring. Because wood is an insulator and water is a conductor, the less moisture there is in wood, the more resistance there will be, and vice versa.
Pinless meters – it use electromagnetic radio frequencies to "scan" hardwood floors to a fixed depth. Fluctuations in the wave are used to measure the moisture content of the wood.
Pinless meters tend to be the fastest for checking large amounts of wood flooring, while pin-type wood moisture meters tend to be better at pinpointing the depth of a moisture pocket in wood.
In all, most of engineered wood flooring manufacturers more like to choose pinless moisture meters,  because pinless meters are able to test moisture content in wood they can test moisture  in wood just putting above surface of wood flooring without the need to create pinholes in it.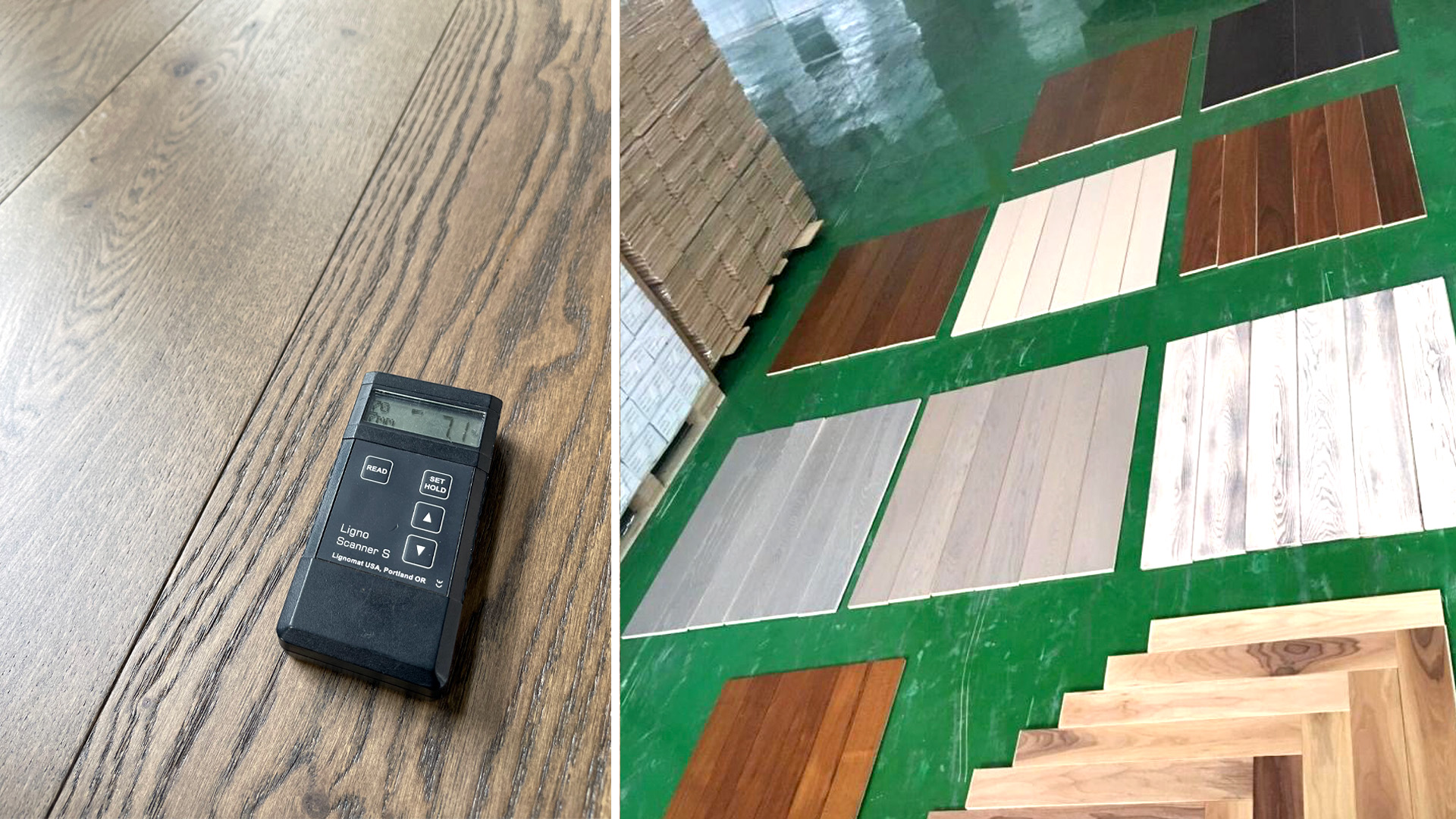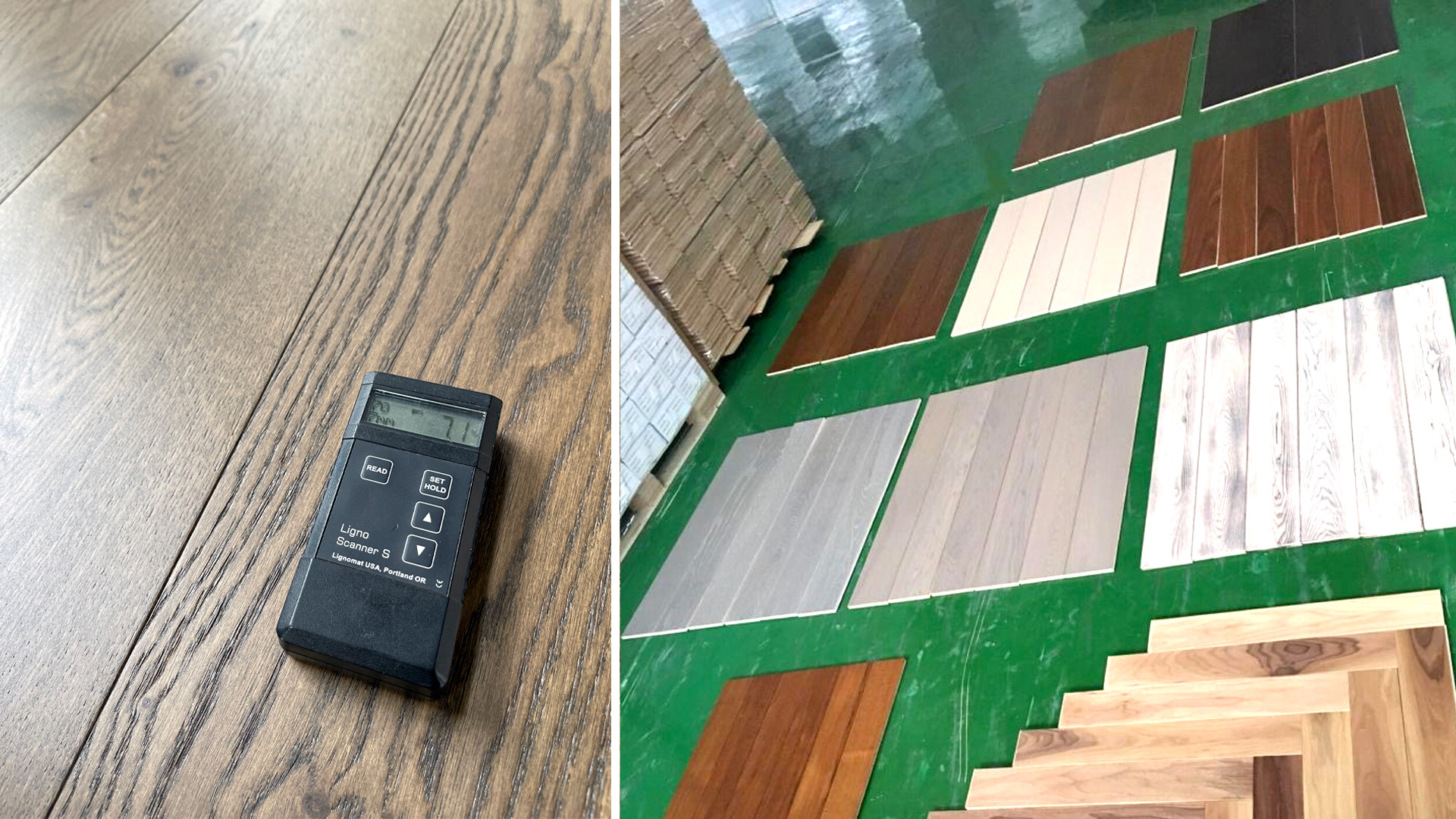 In order to make our wood flooring moisture content in accordance with installation environment, we do 12 times of quality and venner & eucalyptus plus birch plywood moisture content tests before exporting engineered wood flooring to international market.
Our oak, teak, walnut and acacia veneers first get dried and oxidized through air dry and bright sunlight.
When we classify our oak veneer with AB, ABC, ABCD, CD, CDE, EF grades, we also do moisture content tests then transfering veneers to veneer defects repairing department.
The Process of Wood Drying Kiln.
On a freshly cut tree the moisture content can be anywhere from 30%-45%, this is called green wood and some chair makers use this wood for their projects, but for the rest of us the MC is too high to build anything from it, so we, have to dry the lumber before it is of any use to us. The ideal MC for furniture making is around 8-9%, for wood floor making is around 6-8%, some say 7 and some say 6, so let's just say anywhere from 7-9% is ideal.
Kiln dried is a forced but controlled process where humidity and temperature is controlled using steam and fans for drying. The drying process normally takes between 6-8 weeks, because of its fast drying due to high temperatures, the cells collapse quickly rather than slowly as it would with air drying, making it unstable. Because of this when moisture is absorbed, the cells expand rapidly filling up with water quickly than it would with air dried lumber. However, the positives with Kiln drying due to high temperatures, any laid eggs and bugs are killed off. There is treatment for mould and insects at an extra cost.
If hot dry air is used, then the surface dries too rapidly and develops case hardening, 'checks', so kiln drying requires careful control of both air and temperature. The idea is to prevent stagnant layer of excessively humid air from lingering around the timber, as in the case of air drying, the air is frequently renewed which prevents this from happening.